Soonr's new iOS app for Apple's iPhone, iPod touch, and iPad, Scribble ($4), is designed to help busy people on the go refrain from becoming something their colleagues loathe: a productivity bottleneck.
While most iOS annotation apps only let you markup PDF files, Scribble lets you annotate 35 different document types. So, for example, if a colleague sends you a diagram, PowerPoint deck, Word doc, Excel spreadsheet, or other file, you can draw big red Xs on them. You probably won't win friends, but you'll get your point across.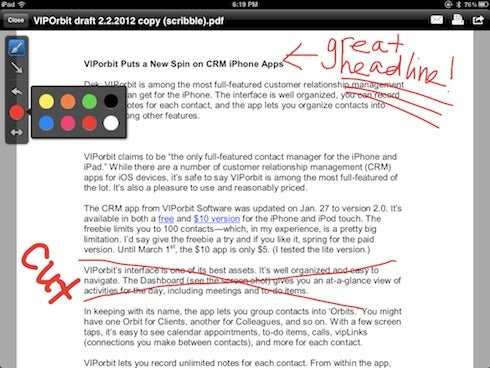 You can scribble notes and add question marks to the document, too. Most importantly, you'll keep the important approval process flowing without needing a laptop or the native apps used to create the documents.
Here's what you will need: A free (or paid) Soonr account and the free Soonr desktop application for Windows and Mac.
The desktop app creates a folder on your computer, into which you upload documents. Once uploaded, files are automatically synced to other computers on which you've installed the Soonr app as well as to your iPhone or iPad. You can also enable colleagues, clients, and others to view and/or markup the documents in your Soonr folder.
Once a document is annotated, it's automatically saved as a new PDF file; the original file isn't altered. This is to keep you from inadvertently creating the dreaded 'version confusion' among multiple reviewers, which pretty much assures you'll become a productivity bottleneck.
You can annotate documents in Scribble when you're offline, a nice feature for frequent flyers. As for security, you access and upload documents over 256-bit SSL connections, according to Soonr. Files are mirrored and backed up to data centers that "are physically monitored" 24-7, the company says.
Though what the Soonr service does behind the scenes is complex, the Scribble app is blissfully simple (I tested version 3.5.15). However, at the moment it's a bit too simple. The app doesn't enable you to add typed annotations or highlight a document, though a company spokesperson says those features are coming "in about two weeks." Also, you'll need a stylus to use Scribble, because there's only so much annotating a finger can do. I use and recommend Adonit's Jot Pro ($30).
Soonr has already introduced Scribble for the Android-based Samsung Galaxy Note, which comes with a 5.3-inch screen and the S Pen stylus. (AT&T begins selling the smartphone/tablet hybrid Feb. 19.) Scribble currently only works on the Samsung Galaxy Note but will support other pen-enabled Android devices in the future, according to Soonr.