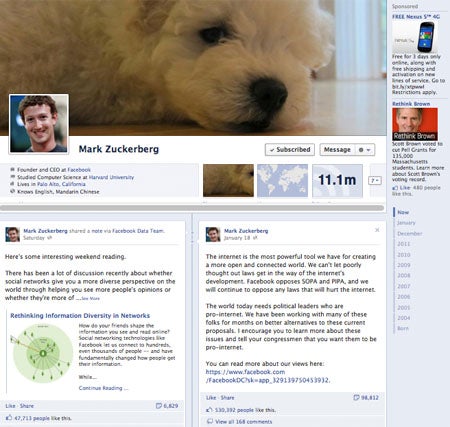 Ready or not, here it comes: Facebook Timeline is becoming mandatory for all users.
Today, Facebook announced on its blog that after a slow rollout that began in December, you—and all Facebook users—will be switched to Timeline in the next few weeks if you don't do so yourself.
Facebook's Timeline, which was first announced last fall at Facebook's F8 developer conference, is the most significant redesign to its profile page yet. The new interface features larger photos and a greater emphasis on life events.
Users who already have Timeline are torn: Some are touting the redesign for its updated look. Personally, though, I don't like it—it can be a privacy nightmare since Timeline makes it easy for you and others to search posts as far back as the day your joined the social network.
To make the change to Timeline on your own, you can visit the Introducing Timeline page or look for the prompt when you log in. Otherwise, Facebook will switch you automatically in the upcoming weeks.
Once you do have Timeline (either by choice or by force), Facebook gives you a week to make changes to it, including hiding or deleting old posts, filling in significant "life events" and updating your cover photo, before it goes live for all your friends to see. Keep an eye on your profile so you don't miss that window.
For more on Facebook Timeline, including your privacy options, settings you should know and how the new Timeline apps will affect your Facebook experience, be sure to watch for our Timeline guide coming tomorrow.
Update: Check out our complete Timeline guide here.