Mobility's master magicians have left the building, replaced by assistants working the gears behind the curtain.
Former chief operating officers are now leading the top mobile companies: Apple's Tim Cook, who took over shortly before Steve Jobs passed away last year; and RIM's Thorsten Heins, who took over last weekend amidst shareholder cries to replace co-CEOs Jim Balsillie and Mike Lazaridis.
As the new faces of their companies, Cook and Heins will do battle in the super-hot mobile market. Both have big shoes to fill. Once hailed as heroes, Balsillie and Lazaridis invented the smartphone market with the BlackBerry. Jobs re-envisioned it with the iPhone.
But are COOs the right men for the job?
"They got the call because the departing CEOs wanted it that way," says tech analyst Rob Enderle. "COOs tend to form strong relationships with the CEOs, given they tend to the parts of the CEO job that the CEO doesn't like to do."
Cook is known to be a low-key, analytical workaholic who isn't comfortable under the bright stage lights. He kept Apple humming when Jobs was sick, largely due to his laser-focus on the channel. Cook takes the helm of a company on one of the greatest runs in the history of technology. It's unlikely that Apple will stumble under Cook's watch, at least in the short-term.
The problem is the future. Will Cook deliver another miraculous iProduct? Industry watchers doubt it. "Cook starts out with Apple in great shape, but it was a company designed around Jobs – and he is no Jobs," Enderle says.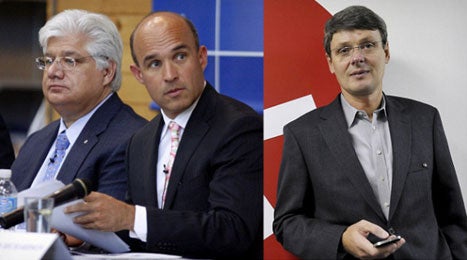 Heins, on the other hand, comes to a company in free fall. Thus, he has a much better shot at making improvements. Even if he can just halt the slide, he'll look like a savior.
But Heins has already revealed his operative roots. Bold moves to right the ship are unlikely under his stewardship. "I'm German, and I'm a big fan of the term 'process discipline,'" he said with a laugh during his introduction. For more, CIO.com's Al Sacco has put together 10 things you need to know about RIM's new CEO.
Analyst reaction to the appointment was swift and merciless, reports AllThingsD. "Heins appears to have been selected to give the impression of change but without actually changing anything," Enderle says.
That's the problem with promoting insiders and train operators to the top spot. The COO and CEO have very different skill sets, executive leadership expert Paul David Walker, author of Unleashing Genius (Morgan James Publishing, 2008), told me last year.
Apple needed a visionary like Jobs, albeit that's a tall order. RIM needed an outsider with a fresh view of the market and products, as well as a bit of a marketer. Think: Lou Gerstner of IBM. "Neither company got the ideal candidate," Enderle says.
With former COOs on deck, the mobile scene just got a lot less exciting. But this might also open doors for rivals. The CEO with the most showmanship touting a hot, new smartphone is now Microsoft's Steve Ballmer with the Nokia Lumia phones running Windows Phone OS.