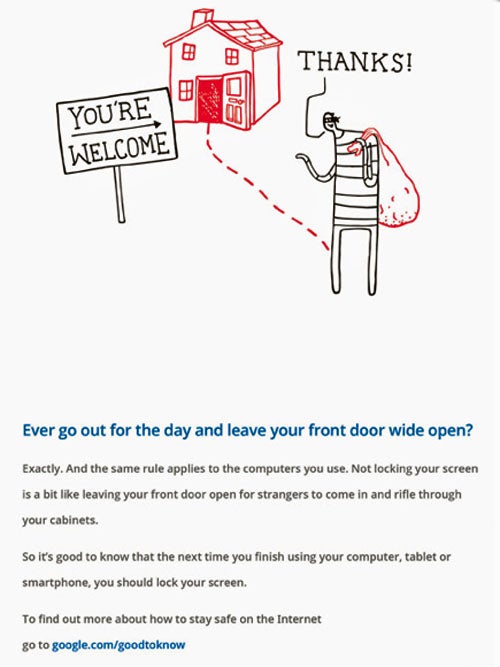 Amidst mounting privacy and security concerns, Google yesterday launched a multimillion dollar ad campaign focusing on those very issues: privacy, security and how it uses your information "to make the Web more useful." The ads, which read like public service announcements, are being lauded by some and called disingenuous by others.
In a blog post, Google's Alma Whitten, director of privacy, product and engineering, writes, "Technology can be confusing, and the industry often fails to explain clearly enough why digital literacy matters." She says the campaign aims to make "the web a safer, more comfortable place."
Google, though, has experienced its fair share of scrutiny surrounding privacy and how it uses the information it collects. In 2010, Google acknowledged that its Street View cars had scraped personal emails and website activity from unsecured wireless networks.
Most recently, the search company created controversy when it announced that Google+ results would appear alongside—and sometimes above—other relevant search results.
Google's dicey record with privacy and security is causing some experts to second-guess whether its newest ad campaign is sincere or PR-contrived.
Jeff Chester, executive director of the Center for Digital Democracy, told the Associated Press that, "This campaign should be nominated for some kind of award for fiction. If grades were given out for privacy protection, Google would get a D plus."
Advertising trade publication Adage, though, called it "an important branding effort for Google as internet users' concerns about how their personal data is used continue to mount."
The multimillion dollar campaign is running in print editions of The Wall Street Journal, USA TODAY, The Economist and The New York Times, as well as subway stations in New York and Washington, D.C. The ads feature minimalistic illustrations that emphasize basic digital literacy topics such as the importance of two-step verification, locking your computer screen, what cookies are and how Google uses your information.
One ad, for example, features an illustration of a man looking at both a Volkswagen Beetle car and a beetle insect. The text reads, "When you type in beetle we can guess you mean the car and not the insect if you've searched for cars recently. It makes things a little bit quicker and a whole lot easier for you." You can view all of Google's ads on its official Picasa album.
Google should be commended for drawing attention to its new resource page, google.com/goodtoknow, which is listed on each ad. The page includes tips for staying safe online and more information on how Google uses your personal information. And, it's all described in simple enough terms for the average internet user—something that Facebook could certainly improve upon.
But that doesn't necessarily discount the timing of the ad campaign—conveniently, a week after Internet advocates raised antitrust concerns over Google+ integration with search results.
What do you think of Google's ad campaign? Cast your vote in the poll below.