Blurring the line between personal and professional is a heavily debated topic, especially when Facebook is involved. The social network has traditionally been a strictly social network—meant to help you keep in touch with friends and family. But as it evolves and continues to roll out new features such as Subscriptions and improved brand pages, the distinction is becoming harder to make.
One recent example: U.K. online printing company Moo partnered with Facebook following the announcement of Timeline, Facebook's new profile design, to generate business cards—yes, business cards.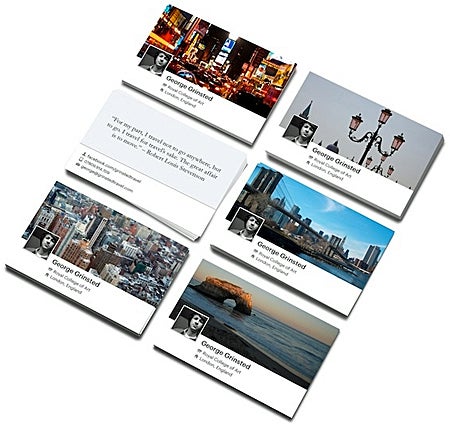 The business cards mirror the design of Timeline in a few ways: They feature your cover photo (the large landscape image you upload once you transition to the new profile design) and your profile picture, which is inset and smaller.
The business cards also include your name, company or college, where you live, your phone number and your email address. By default, Moo will pull the first quote it finds in your "Favorite Quotations" field, but you can edit it to say what you like.
Oh, and it also prints your Facebook URL so others can easily find your profile.
While the business cards do look slick—a departure, for sure, from the traditional text-and-logo-based business card—they're just not something I can get onboard with.
Call me a traditionalist, but I still try to maintain that personal/professional distinction. I set my profile so it's unsearchable on Google and I keep tailored lists for my different groups of friends and coworkers. I tried Facebook's Subscription feature for several weeks, but even that blurred the lines a bit too much for me.
That's not to say that these new business cards don't have an audience: They certainly could be a cool way to promote brands at events and tradeshows, for example, or professional pages and your personal Facebook page if Subscriptions is working for you.
Ordering the business cards is easy, too—just make sure your current cover photo and profile picture are what you want featured on your business cards, then visit facebook.com/yourfacebookusername/info, replacing the text with your Facebook username or ID number. For this to work, you need to have the new Facebook Timeline.
Next, scroll to the "Contact info" section and hover over the business card icon to proceed. With a few clicks your business cards will be ready to purchase. As a promotion, and for a limited time, your first order is free so jump on it if this is something that interests you.
Do you think Facebook business cards have a future? Or is it too soon to start blending the personal with professional? Cast your vote in the poll below.