Corporate Google Apps users with BlackBerry smartphones and the latest versions of Research In Motion's (RIM) BlackBerry Enterprise Server (BES) for Microsoft Exchange, v5.0.3, can now securely access their Gmail, Google contacts and calendar via the native BlackBerry messaging, contacts and calendar apps, thanks to an update to the Google Apps Connector software.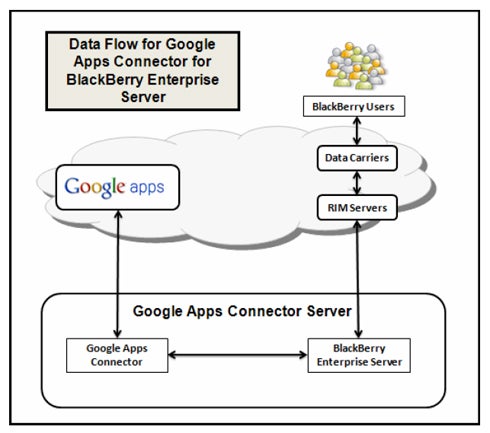 Google Apps Connector v4.0, released earlier this month, is unfortunately only available for BES for Microsoft Exchange v5.0.2 and v5.0.3 and not BES for IBM Lotus Domino or BES for Novell GroupWise. The Google software does, however, work with the most recent versions of RIM's free, slimmed down BES Express.
Here's a quick overview of the Google Apps Connector for BlackBerry features:
-Messages sent to your Gmail inbox are pushed to your BlackBerry within 60 seconds
-Emails read/deleted on your BlackBerry are marked as read/deleted in Gmail, and vice-versa
-Synchronize BlackBerry folders with labels in Gmail
-Search users, shared contacts, groups, calendar resources on your company domain
-Create, edit and respond to meetings from your native BlackBerry application with two-way synchronization between Google Calendar and your BlackBerry device
-Contacts in Gmail are automatically synchronized with your BlackBerry address book.
New functionality included in the v4.0 update reportedly includes the ability to send or deny request message-read receipts and post up busy or free status updates for meeting invites.
I wrote an in-depth post on Google Apps Connector for BES back in May of 2009, when the software was initially released, and beyond the new support for recent BES versions and the above mentioned features, not all that much has changed, since software's purpose is simply to bring Google mail, contacts and calendars securely to BlackBerrys via BES.
Find more official details on Google Apps Connector, and download the software for free, via Google's website. Or download the software's installation and administration guide.
AS