Research In Motion (RIM) really messed up this time.
In October, the Canadian company announced the name of its brand new mobile OS, which it hopes will prove to be the savior the struggling handset maker so badly needs: "BBX." (RIM's new OS is expected to be released along with new devices in early 2012.)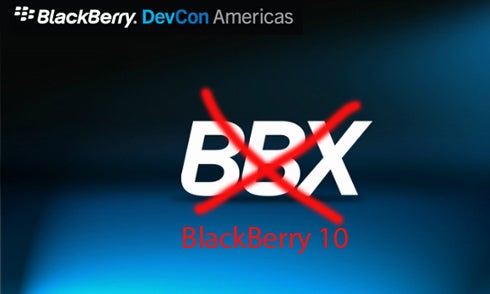 Then, just a few days later, software company BASIS filed legal action against RIM, claiming the BlackBerry maker's use of the name BBX violated its trademarks. (BASIS's "BBx" operating system independent language, database, and toolset is an "OS-agnostic language that runs on numerous OSs, Java platforms, and JavaScript-enabled browsers" according to the company. And it says it owns a trademark on the name "BBX.)
RIM quickly shot down the accusation and released a brief statement, which included the following verbiage: "RIM [does not] …believe the marks are confusing, particularly since our respective companies are in different lines of business."
But despite RIM's smug dismissal, it was clear from the start that trouble was on the horizon for RIM and BBX. Today, that trademark trouble has resulted in RIM abruptly dropping the BBX name after a ruling was issued against it and adopting a new, boring and confusing label for its upcoming OS: "BlackBerry 10."
BlackBerry 10 is a particularly lame name for a number of reasons. And it really doesn't bode well for the future or BlackBerry and it next-generations lineup of smartphones and tablets. Here's why.
First of all, I actually liked the BBX name—and I don't think I've ever really been a fan of any of RIM's product names or naming conventions. But BBX sounds good, and more importantly, it made sense; BBX comes from a combination of the names "BlackBerry" and "QNX"—RIM acquired QNX Systems last year, and its BlackBerry PlayBook tablet OS and the upcoming smartphone OS are based on a QNX foundation. BBX also sounds a lot like "BBM," (BlackBerry Messenger) RIM's popular BlackBerry-only IM client, which makes the name easy to remember.
BlackBerry 10, on the other hand, makes no sense. RIM's latest BlackBerry OS, which was released less than six months ago, is called BlackBerry 7. And before that came BlackBerry 6. Prior to BlackBerry 6 was BlackBerry 5. And so on. One might assume that "BlackBerry 8" or something along those lines might be next, right?
Nope. At least not for RIM's upcoming OS. It was a logical move for RIM to abandon the "BlackBerry" + "numeral" naming system for the upcoming OS, and opt for "BBX," because the new OS really is drastically different than the current BlackBerry handheld OS. And an entirely new name might help distance potential BlackBerry buyers from some of the negative connotations that have been tied to the BlackBerry smartphone brand during the past few years.
But gone with the BBX name went any logic RIM may have exhibited in software naming decisions, because not only has the company decided to stick with its boring on "BlackBerry" + "number" system, it skipped the next logical names: "BlackBerry 8" and "BlackBerry 9."
Worse than this bizarre lack of logic is the fact that RIM apparently doesn't appear to understand just how important it is that the new BlackBerry mobile OS be differentiated from its long-in-the-tooth, current BlackBerry OS.
Finally, the fact that RIM actually decided on the BBX name and announced it at a major industry event—the BlackBerry Developer Conference—without performing its due diligence via a copyright/trademark search shows an astounding and, frankly, worrisome lack of professionalism on RIM's part.
As a loyal BlackBerry user and fan of RIM and its products in general, I've tried to stay positive in recent days, despite all the doom and gloom surrounding the company and the BlackBerry brand. But, honestly, blunders like this make me wonder how much longer RIM can tread water in the mobile space.
Worst of all: This whole BBX/BlackBerry 10 charade simply could not have come at a worse time for the BlackBerry maker, when the success of its next-generation OS could literally represent RIM's last hope of survival.
AS