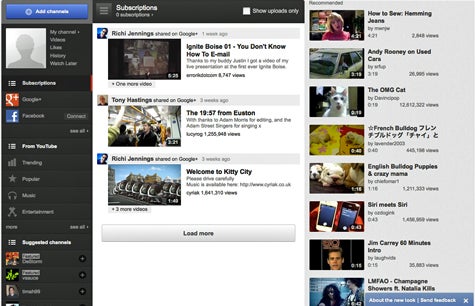 YouTube revealed its largest redesign yesterday—a complete overhaul of the user interface that focuses on customization and social sharing. The company aimed to "make it easier for you to find and keep tabs on what you want to watch," according to a YouTube blog post.
While the redesign does give the site a more updated look, unfortunately YouTube missed the social mark.
The new homepage is sliced into three cluttered sections that are confusing to navigate:
1. Left-side navigation. Here you'll see personal stats such as videos you've uploaded and "liked," your viewing history and videos you've saved for viewing .
The there are options to view the videos that your Google+ friends have shared (which display automatically if you're logged into your account) and to link your Facebook account to view a stream of the clips your friends have shared. Finally, near the bottom, you're able to toggle between trending and popular videos, as well as music or "entertainment" videos. And you also see a list of suggested channels you can subscribe to.
2. The main middle section. This stream corresponds to the specific links you click on the left navigation. You see trending videos if you choose them, popular videos, etc. Or, you see the videos that your Google+ connections have posted (or clips your Facebook friends post, if you choose to connect your accounts).
3. The right-side column. This side is dedicated entirely to recommended links likely associated with your Google Web history—and interspersed with…popular adorable animal videos. Sigh.
YouTube, no doubt, took a page from Facebook's interface (navigation on the left, stream in the middle, miscellaneous items on the right), but for YouTube's purposes, it just doesn't work.
When I browse YouTube, I might choose to share a video on Facebook, Twitter or Google+. Or, a friend from a social network might have pointed me to a specific YouTube page.
For me, YouTube has never been—and I can't ever imagine it will be—a place where I go to see aggregated videos shared by my friends on the various social networks that likely brought me to YouTube in the first place.
Instead of placing the emphasis on videos your friends have shared elsewhere, I would have liked to see YouTube focus its efforts on making the sharing experience of a video easier.
What do you think about YouTube's redesign? Vote in the poll below.