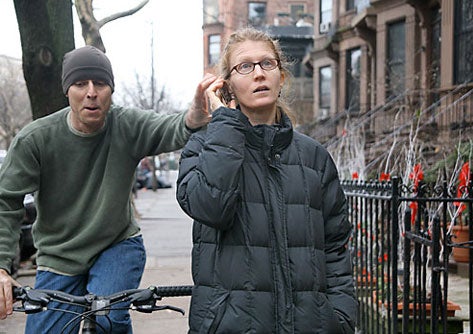 I'm sitting in a BART train heading west to San Francisco, listening to Who'll Stop the Rain by Creedence Clearwater Revival (yes, the famous local band), and surfing the Web on my iPhone 4S, when suddenly I get an eerie feeling – I'm a mark.
Two kids, maybe 10 or 12 years old, are bumping around the BART car, coming close to me as we approach a stop. They pretend to be looking at a map. But I'm sensing that they're eyeing my iPhone. I look up at them as they continue to talk to each other about the map, doors open and close without incident.
Perhaps I am wrong; I slip back into my virtual iPhone world. Two stops later, the doors open, one of the kids quickly snatches a phone from a woman, and they take off.
The next morning, I'm reading a story on SFGate, the Web site of the San Francisco Chronicle, about smartphone muggings on the rise. There have been more than 40 cellphone muggings in November, according to police reports. However, when you factor in the many unreported thefts, it's likely to be a much higher number.
Unlike the BART incident, many of these smartphone thefts are violent. Police reports detail how thieves are sucker punching distracted smartphone owners before stealing their phones, grabbing hoodies and slamming hapless victims to the ground, even taking smartphones at gunpoint.
Truth is, smartphones are the new purses and wallets for thieves. There is more at stake with a smartphone, too, given the data on it.
Smartphone owners bury their noses into phone screens and plug their ears with earbuds, making themselves easy targets. Lost in our own virtual smartphone worlds, we're just not aware of our surroundings anymore. Can you ask for a better victim profile?
As the holiday shopping rush ramps up, smartphone owners will be whipping out their phones more than ever. Smartphones in crowded places are becoming a common sight, as holiday shoppers tap the power of apps to keep track of Christmas gifts, get directions, compare prices, check into bars and restaurants.
Just last week, I wrote about the ever-increasing odds of a thief swooping in and swiping your smartphone – and then it came true before my very eyes. Thieves are getting smarter, too, by throwing stolen smartphones into black boxes that shield electromagnetic interference or ripping out SIM cards so that phones can't be tracked via services like Apple's Find My iPhone.
It's high time we start re-thinking the smartphone culture of isolation in a crowd before thieves force us to change our ways. We need to be more mindful of the real world and less so of the virtual one, because smartphone theft is only going to get worse – and more dangerous.
Those little thieves on the BART train were lightning-quick, practically uncatchable (although one man gave chase), and no doubt already wise in the ways of stealing smartphones. This year, they used their speed. Maybe next year they'll start throwing sucker punches.