Sure, Facebook has more than 800 million members, but according to new data, only 4.74 degrees separate each of us from one another, not the six degrees many originally thought.
The idea of "six degrees of separation"—that any two people are separated by no more than six immediate connections—was first introduced in a short story by Hungarian author Frigyes Karinthy, first studied by Stanley Milgram in 1967 and made popular by the play and 1993 movie Six Degrees of Separation. And, of course, the Kevin Bacon game.
The Facebook Data team, in conjunction with Università degli Studi di Milano, used algorithms to look at 721 million active Facebook users with 69 billion friendships among them to see how connections and relationships have changed since Milgram's 1967 study.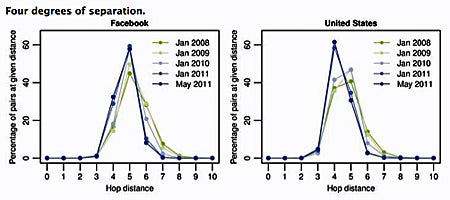 Researchers found that 99.6 percent of people are connected by five degrees of separation and 92 percent are connected by four degrees, making the average distance between two people 4.74 degrees. When the theory was first introduced, six degrees separated two people; three years ago it was 5.28 degrees.
Facebook also looked into the characteristics of a person's network. It found that 84 percent of all connections are between users in the same country, they tend to have a similar number of friends as their neighbor and they tend to be about the same age.
Also if you were to limit the analysis to just a single country instead of internationally, Facebook says the 4.74 degrees of separation shrinks even more, with most people separated by just three degrees.
Facebook does acknowledge that its study and the one performed by Milgram in 1967 aren't comparable. Facebook describes Milgram's method:
Milgram selected 296 volunteers and asked them to dispatch a message to a specific individual, a stockholder living in the Boston suburb of Sharon, Massachusetts. The volunteers were told that they couldn't send the message directly to the target person (unless the sender knew them personally), but that they should route the message to a personal acquaintance that was more likely than the sender to know the target person. Milgram found that the average number of intermediate persons in these chains was 5.2 (representing about 6 hops). The experiment showed that not only are there few degrees of separation between any two people, but that individuals can successfully navigate these short paths, even though they have no way of seeing the entire network.
So while Facebook's study should be taken with a grain of salt, one thing is clear: Facebook—combined with better technology—is making a big world just a little bit smaller.