UPDATE: The BlackBerry P'9981 is expected to cost around $2,000 (U.S.), according to Mashable. Wow. Just wow.
A few weeks ago, I blogged about a leaked image—and video–of a BlackBerry smartphone that was so rough on the eyes that I just couldn't make myself believe it was actually a real Research In Motion (RIM) smartphone. Today, that mobile monstrosity, formerly referred to as the BlackBerry "Knight R47/9980" has been officially announced by RIM as the Porsche-designed "P'9981." (Yes, that Porsche, the one that designs pricey sports cars to help ease mid-life crises, among other things.)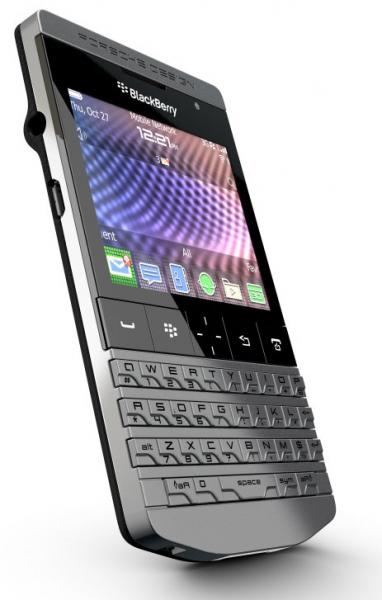 I don't have too much more to say about this device, other than its specs are nearly identical to the current BlackBerry Bold 9900/9930, which is much better looking. In fact, the only real differences, hardware-wise, appear to be the P'9981's keyboard and trackpad, as well as a leather-covered rear panel. And the software, RIM's BlackBerry 7 OS, is the same as the software on the current 99xx.
Neither RIM nor Porsche have announced a specific price or release date yet, saying only that the BlackBerry P'9981 will be available at Porsche retail stores later this year. But you can bet this limited edition handheld's price tag will be very different than the Bold 9900/9930's tag. (Think: More digits) Or perhaps Porsche will simply include a handheld with new automobile purchases.
Why anyone would choose this device over the current Bold 99xx series is beyond me, unless they're collectors who simply must have anything and everything BlackBerry. But, to each his own, I say.
Find more information on the brand new BlackBerry P'9981 on RIM's website.
AS
Video via BerryCN.com
Al Sacco was a journalist, blogger and editor who covers the fast-paced mobile beat for CIO.com and IDG Enterprise, with a focus on wearable tech, smartphones and tablet PCs. Al managed CIO.com writers and contributors, covered news, and shared insightful expert analysis of key industry happenings. He also wrote a wide variety of tutorials and how-tos to help readers get the most out of their gadgets, and regularly offered up recommendations on software for a number of mobile platforms. Al resides in Boston and is a passionate reader, traveler, beer lover, film buff and Red Sox fan.