Research In Motion (RIM) just can't seem to get a break nowadays.
The growing negative public sentiment around the company in the mobile marketplace, shrinking market share, a days-long service outage—RIM's worst ever–and now a potential trademark lawsuit over the name of its upcoming BlackBerry platform, are all culminating to make October 2011 an ugly month for the Canadian company.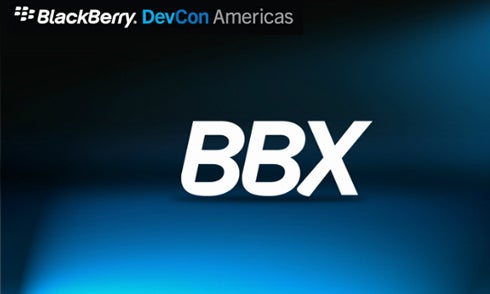 Earlier this week, RIM unveiled the new name for its next-generation BlackBerry platform at its fourth annual BlackBerry Developer Conference (DevCon) in San Francisco: BBX. (Read more about BBX and RIM's additional DevCon announcements.)
The name is a fitting one. It comes from a combination of the names "BlackBerry" and "QNX"—RIM acquired QNX Systems last year, and its BlackBerry PlayBook tablet OS and the upcoming smartphone OS are based on a QNX foundation. BBX also sounds a lot like "BBM," (BlackBerry Messenger) RIM's popular BlackBerry-only IM client, which makes the name easy to remember.
But that might not matter, since RIM may not be able to employ the BBX name in the future. Software company BASIS is currently filing legal action against RIM, claiming the name BBX violates its trademarks. BASIS's "BBx" operating system independent language, database, and toolset is an "OS-agnostic language that runs on numerous OSs, Java platforms, and JavaScript-enabled browsers" according to the company. And it says it owns a trademark on the name "BBX."
BASIS also claims that since RIM unveiled its BBX on Tuesday, it has already received many inquiries from customers asking about RIM's use of the BBX name.
From BASIS:
"[A] new BlackBerry operating system (OS) named "BBX" is causing great confusion for the worldwide BASIS community and could potentially harm BASIS' [sic] reputation for enabling cross-platform application development….We are fielding numerous customer inquiries voicing their confusion about the RIM announcement."
RIM responded to the initial complaint with a cryptic, "Whachootalkin' 'bout" BASIS?" statement:
"RIM has not yet received a copy of the legal complaint described in Basis International's press release, but we do not believe the marks are confusing, particularly since our respective companies are in different lines of business."
I'm not exactly sure what to make of this, but it probably doesn't matter that RIM isn't "confused" by the two companies' respective uses of the name "BBX;" BASIS and the BlackBerry-maker are both in the technology industry, and that may be close enough for BASIS get a trademark ruling against RIM. Obviously, that would really not be a good thing for BlackBerry.
RIM has a long history of poor and plain old confusing product naming strategies. Just when it seemed like the company finally came up with a logical, clear and "cool sounding" name, it may not even be able to use it.
You have to wonder: Did RIM not perform its due diligence in checking for trademarks on the BBX name? Or did the company expect BASIS to simply ignore the BBX platform?
AS