At its Build conference today in Anaheim, Calif., Microsoft lifted the curtain on the Developer Preview Windows 8, revealing more details about the Metro "tile-based" UI, the alleged cozy compatibility with Windows 7, the ease of building Windows 8 apps, and the different devices and form factors that Windows 8 will run on.
It's clear from the various demos during Windows chief Steven Sinofsky's keynote (click below for video highlights) that Windows 8 is faster to boot up than Windows 7 and will work across a variety of chipsets, from ARM-based chips to the more traditional x-86 Windows processors from Intel and AMD. Windows 8 will also work on different devices, from big honkin' desktops to ultrathin laptops to, most importantly, tablets.
Windows 7 was not designed to work on a fully functional tablet and this has prevented Microsoft from competing in the increasingly important tablet market now dominated by Apple's iPad.
But it was the new Metro user interface that got everyone's attention at Build today. The Windows 8 Metro UI was not designed exclusively for touch-screen tablets (it will appear the same on laptops and desktops too), but its colorful grid of touch-based tiles and ability to smoothly swipe, tap and pinch apps does seem tailor-made for the tablet experience.
Windows 8: What We Hope to Learn
Getting Windows 8 Tablets Right: It's Kind of a Big Deal
Slideshow: 8 Hot Features in Windows 8
The Start screen for Windows 8 is a personal mosaic of tiles and looks nothing like the traditional Windows desktop we're all accustomed to. Every app on a Windows 8 PC is represented by a tile: e-mail, weather, calendar, photos, Twitter feed, the touch-based IE10 browser, etc. Each tile can be clicked on with the touch of a finger, and also can be accessed via a mouse and keyboard.
For developers, a demo during Sinofsky's keynote showed that Windows 8 apps can be written in HTML5, JavaScript, C++ or any other language a developer chooses.
It was also confirmed today that Windows 8 will come with a Windows store to sell these apps. Application stores are a new thing for desktop OSes, but are integral to a tablet OS — examples include Apple App Store for iOS, Android Market for Android, and BlackBerry App World for QNX on BlackBerry Playbooks.
A big treat for BUILD attendees: Several thousand of those in attendance (excluding Microsoft staff and the press) received a Samsung Windows Developer Preview PC Slate running a preview release of Windows 8.
It's very early to praise Windows 8, but today's keynote provided some proof that Microsoft is indeed catching up with the times and doing something new and unique with Windows. Windows 8 is scheduled to release to the public in the second half of 2012.
Here are some images of the Windows 8 Metro user interface:
Personalized lock screen shows unread emails, battery life and other notifications.
See your apps and content in a glance on the start screen.
Pick the files you want to send or share from one place.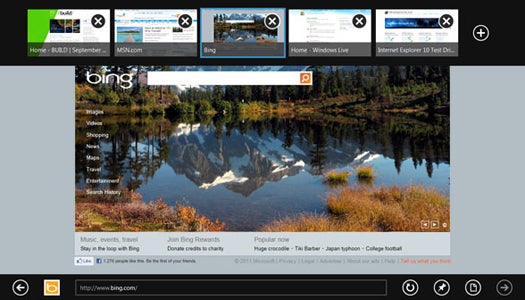 Fast and fluid touch browsing with Internet Explorer 10.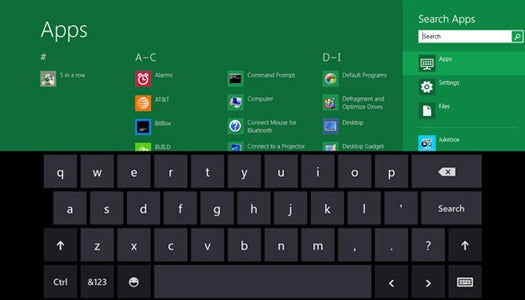 Large buttons help you type on the touch keyboard.