Yesterday, BlackBerry-maker Research In Motion (RIM) officially announced three brand new BlackBerry smartphones: the BlackBerry Torch 9810; Torch 9850; and Torch 9860. Though all of these devices, along with RIM's upcoming Bold 9900/9930 handhelds, pack a variety of unique features, none of them is a true 4G mobile device—despite some deceptive advertising on the part of U.S. wireless carrier AT&T.
In fact, RIM has not yet released a 4G BlackBerry. But if some purported leaked inventory documents from carrier Verizon Wireless prove to be legitimate, RIM's first 4G, LTE-enabled BlackBerry handheld could hit store shelves in September.
The BlackBerry Curve 9370 is set to become available through Verizon starting on September 8, according to the leaked documents posted on IGN.com. The Curve 9370 and its sibling, the Curve 9360, have shown up in a variety of images online during the past few months, but no mentioned of LTE was made.
RIM has not yet announced or acknowledged either the 9360 or 9370, but RIM's co-CEO recently stated that the company plans to ship seven new BlackBerry devices before the end of the year. So far, only five new BlackBerrys have been unveiled, so these new Curve devices could potentially be the last two smartphones RIM plans to release in 2011. (Then again, there's also the Curve "Touch" and Bold 9790 smartphones…)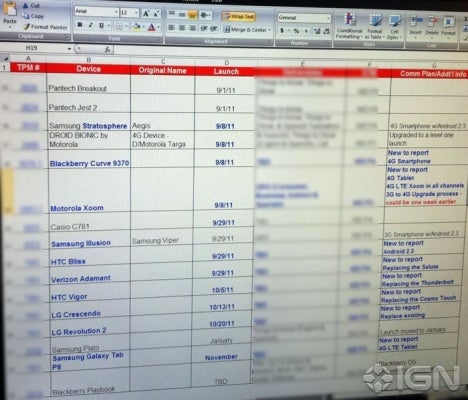 The reference to the Curve 9370 being 4G could, however, simply be a mistake…or some more carrier-exaggeration, which isn't exactly uncommon at this point. Or the documents could be fakes. RIM's Curve devices are largely considered to be low- to mid-level smartphones, so it seems a bit odd that a mid-level device would be the first 4G, LTE BlackBerry to market. But it's certainly possible.
In related news, RIM in February announced that it was working on a 4G, LTE-enabled BlackBerry PlayBook tablet, and these new leaked Verizon documents also mention an upcoming version of the PlayBook, though they don't confirm that the device will pack LTE support, nor do they mention any specific release date.
I'm admittedly a bit skeptical of these documents, but Verizon was one of the first global carriers to offer LTE-enabled mobile devices, including the popular Android-powered HTC Thunderbolt and the first LTE-enabled Samsung Galaxy Tab 10.1, so it would seem to make sense for Verizon to drop the first LTE BlackBerry.
AS
IGN via CrackBerry.com