On Thursday, Research In Motion (RIM) announced that its BlackBerry PlayBook tablet has received the U.S. government's Federal Information Processing Standard (FIPS) 140-2 security certification, making it the first tablet PC to be approved for use within U.S. federal government agencies and organizations.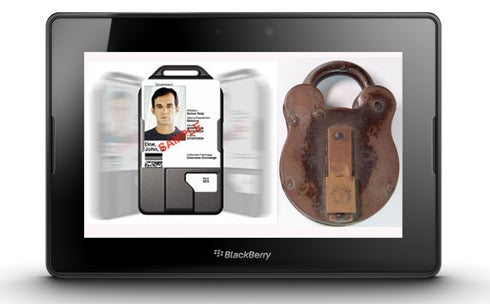 FIPS 140-2 is a U.S. National Institute of Standards and Technology (NIST) security standard for electronic devices, and all handhelds and other gadgets used by federal workers must received the certification under the 2001 Federal Information Security Management Act (FISMA).
RIM's BlackBerry Smart Card reader also apparently earned the FIPS certification, as well, according to CrackBerry.com, so it too is now officially sanctioned for federal government use in the United States.
The BlackBerry Smart Card reader connects via Bluetooth to your BlackBerry smartphone, so the device can only be used when in range of you and your card reader. And it's designed to create an addition "layer" in an organization's security efforts to protect sensitive data stored on users' BlackBerry devices.
In a conversation I had with RIM's co-CEO Mike Lazaridis in 2008, the BlackBerry chief called the Smart Card Reader the "best BlackBerry product you've never heard of."
Security has always been one of RIM's strengths in the mobile space, and the Canadian company has continually demonstrated its commitment to working with various governments agencies and other security-conscience organizations to help meet all of their security needs and requirements.
In related news, the BlackBerry PlayBook tablet also recently received a "Best of Show" award at the 2011 FOSE event, the largest federal U.S. government IT event of the year, according to RIM.
RIM's latest BlackBerry handheld OS, BlackBerry 6, received FIPS 140-2 certification last December.
AS
via RIM and CrackBerry