While I don't own any Apple stock, I've made a pretty sizeable investment in the company. And I'm not just talking about the hundreds of dollars I spent on an iPhone and iPad 2.
It all started years ago with a smooth ride on a Midnight Train to Georgia ($1), rocketed to outer space with Star Trek HD ($20), made its way to the local course with Golfshot: Golf GPS ($30) and to work with QuickOffice Pro HD ($20). Most recently, in a sign of the times, my iOS investment took the form of a recurring charge with an iPad subscription of the New York Times ($20 per month).
Yes, I'm stuck to Apple like caramel candy – and I'm not the only one, either.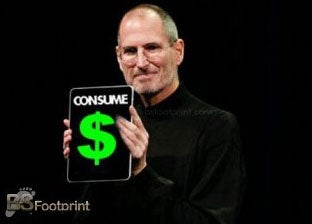 Deutsche Bank analyst Chris Whitmore recently did the math: 225 million iOS devices in the market so far and $22 billion in content purchases for those devices, which means the average iPhone or iPad or iPod Touch has $100 worth of songs, movies, books, apps, services.
Thanks to iTunes, Apple boasts more than 200 million customer accounts tied to credit cards. Once Apple fires up iCloud in the fall, most of its customers' precious content won't be stored locally but on its servers. It's Apple to the core now and in the foreseeable future.
In bygone years, tech vendors gained customer "stickiness" through apps, as in: "Job requirement: Must be familiar with Microsoft Office." Today, content is king.
I haven't added up my sizeable content investment for my two iOS devices yet, although I am certain it's at least $200. I'm not sure how to migrate my content to, say, an Android tablet, if it's even possible from a technical and licensing standpoint. Maybe my techie friends could help me out. I'm pretty sure doing so will mean the dollars I poured into apps will be lost.
But then again, why would I migrate my content? Apple keeps the cost of content fairly low. The iPhone and iPad serve up an amazingly simple user experience. Tablet competitors haven't offered a compelling reason to switch. Most of all, I'm a pretty lazy guy.
Call it the path of least resistance, says Gartner analyst Van Baker."Consumers will only migrate if there is compelling value on the other platform or the platform they are on becomes burdensome," he says. "The stickiness really does matter."