U.S. credit card company American Express and location-based social network foursquare will today announce a new program to allow foursquare users to "check-in" to certain retailers and then use their AmEx cards to received discounted goods and services, according to a report on NYTimes.com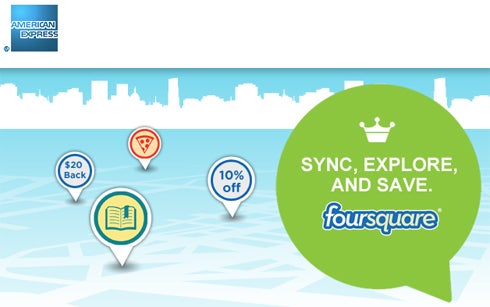 Foursquare and AmEx ran a similar trial program at this year's South by Southwest festival in March in Austin, Texas, and today the two company are expected to announce an expansion of that pilot, meant to offer foursquare users "coupon less, hassle-free savings within the foursquare app."
AmEx card holders on foursquare simply link their credit cards to foursquare on AmericanExpress.com, and deals and discounts are automatically applied to their accounts. (Corporate and/or pre-paid AmEx card holders are not currently eligible to participate in the new program.)
Foursquare users are often rewarded for checkins at their favorite bars, restaurants, parks, etc., with "badges" for certain achievements and other deals or discounts. But it can be a hassle to redeem specials or discounts, because the businesses that offer them don't always notify all employees of the specials, and therefore, foursquare users attempting cash in on these deals are often met with blank or confused stares.
American Express and foursquare will initially offer deals at Sports Authority and popular clothing store H&M, as well as at a handful of restaurants in New York City, including, Union Square Cafe and Blue Smoke, according to NYTimes.com. More specifically, foursquare users who check-in and buy $75 worth of H&M goods via AmEx will get $10 account credits. And if you checking at Sports Authority and $50, you'll get a $20 credit, the report says.
The new foursquare/AmEx deal is relevant for a number of reasons. First, it "eliminates the middle man," so deals and discounts are automatically applied to users' AmEX cards, and there's no longer any need to involve employees. I've literally passed up foursquare deals I've unlocked in the past, because I didn't want to have to explain them to clueless bartenders, so I definitely appreciate this new development.
The partnership is also sure to drum up new interest in foursquare, since American Express is very recognizable name, as are The Sports Authority and H&M. And consumers sure do love free, or discounted, stuff; the various foursquare account credits are sure to grab some new eyes.
Also, Foursquare, which recently announced that it has 10,000,000 registered members, does not yet take in any sort of profit from its users, and though the company doesn't plan to take a cut of the purchases made via AmEx along with its users' checkins, the deal could hint at how foursquare could take start bringing in cash in the future as it partners with more big name companies.
Check out AmEx's foursquare page to link your credit card or to find additional details.
And for more on foursquare, read my foursquare privacy basics and location based services etiquette tips.
AS
via NYTimes.com