Next Tuesday, Microsoft's BPOS cloud service will be rebranded and reinvigorated as Office 365, and Microsoft needs to appear as gung ho for the cloud as its "All In" marketing tagline suggests.
So the timing of today's outage that knocked down BPOS for a few hours could not have been worse.
The clumsily-named BPOS (Business Productivity Online Services) is Microsoft's cloud service that includes Exchange Online, SharePoint Online, Lync Online and Live Meeting.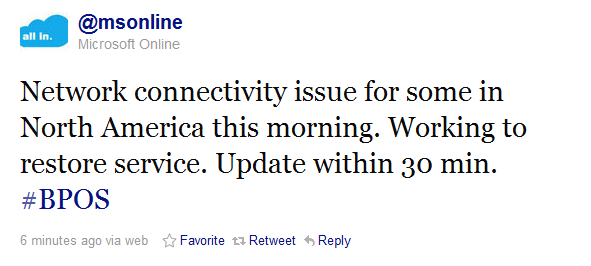 The revamped Office 365 debuting next week also includes online versions of Exchange, SharePoint and Lync (all 2010 versions) and will roll Live Meeting into Lync and add Office Applications, either as Web apps or desktop software, depending on the version you choose.
The first signs of today's two-hour outage started with a tweet from @msonline at around 1 pm EST that read: "Network connectivity issue for some in North America this morning. Working to restore service. Update within 30 min. #BPOS"
The main culprit of the outage, according to Microsoft, was hardware components that needed to be replaced. Users started complaining on a Microsoft online customer forum at around 11 am EST about trouble signing into BPOS and sending and receiving Outlook e-mail.
Users also complaining that the Health Dashboard that they rely on for BPOS updates also was also down.
So as Microsoft aims to prove itself as a cloud player, this is a messy thing to happen a week before a very important relaunch of a very important cloud service. And although the outage was short-lived it is the fourth outage in two months. Also, as Network World's Jon Brodkin points out in a recent feature story, beta testers and reviewers content that Office 365 is still too buggy to leave the beta phase.
Microsoft did manage to redeem itself be offering frequent outage updates and advice via the Twitter handle @msonline. I'm guessing Microsoft took to Twitter for damage control because the Health Dashboard within BPOS was down.
Starting at approximately 1 pm ET the company tweeted that they were working to restore connectivity issues. Soonafter, @msonline suggested BPOS users access Exchange mailboxes through the OWA (Online Web Access) browser client while the Single Sign-on App in BPOS was down.
In response to a question from someone with the handle @wprat, "Is there any reason to believe that @Office365 will be more reliable than #BPOS has been lately?" the @msonline handle responded "Yes, O365 should provide a more stable service. It is built from ground up new and reports and expectations are very good."
All was resolved at 3 pm EST with the tweet "Service Health Dashboard is now restored. All services should be healthy and online."
Did today's BPOS outage turn you off from considering Office 365? Or did Microsoft's Twitter updates and quick restoration give you confidence that the company can handle cloud glitches?