BlackBerry-maker Research In Motion's (RIM) CEO structure is a bit out of the ordinary: the Canadian company has two chief execs at its helm, tech visionary and engineer Mike Lazaridis; and his business-minded counterpart, Jim Balsillie. (Read more on the relationship between Mike and Jim on CrackBerry.com.)
But the company has come upon hard times in recent days, due largely to competition from rivals like Apple and Google, and as is often the case in such situations, analysts, critics and the media are all now questioning the CEOs' leadership. Some RIM shareholders are even calling for a significant corporate shakeup.
Personally, I'm not so sure it would be a great idea for RIM to oust one of its co-CEOs or reassign their leadership positions, but I did find the following JoyofTech.com comic strip amusing. It pokes fun at a very real challenge for RIM and all other handset makers: Keeping up with a fast-paced market by constantly developing and shipping new and improved devices and services.
In fact, Lazaridis himself recently cited the inability to get new BlackBerry devices into the hands of consumers and organizations as one of the main reasons the company is currently experiencing financial losses.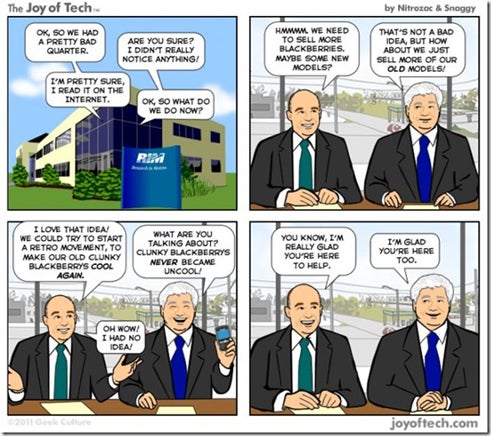 AS