UPDATED: This post has been updated to correct an error made in the report by GigaOM.com; YOU i Labs did NOT develop the HTC Sense UI, but it created a "Sense-like UI" for Taiwanese phone companies other than HTC.
BlackBerry-maker Research In Motion (RIM) continues to wheel and deal, and its latest move comes in the form of a new partnership with Ontario, Canada-based YOU i Mail, a user interface design firm, according to a recent report.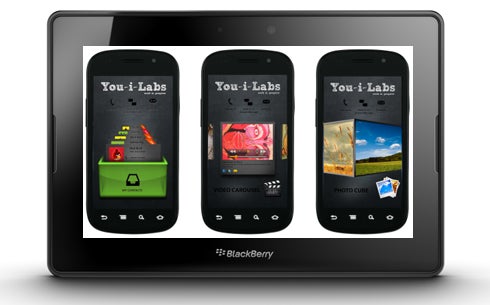 The partnership would presumably be meant to enhance the look and feel of RIM's current BlackBerry smartphone OS and its QNX-based BlackBerry PlayBook Tablet OS, which could also make its way to smartphones within the next year or so. And the news comes just a week after RIM announced its acquisition of Scoreloop, a maker of "social and collaborative gaming toolkits for mobile developers."
GigaOM.com reports that RIM considered a purchase of YOU i Labs—the name is a clever play on the term UI—but eventually decided to simply work with the company. YOU i Labs already works with Teknision, a company that did some of the design for the BlackBerry PlayBook's current UI, according to GigaOM.
RIM has been acquiring companies left and right over the past couple of years—Torch Mobile, Cellmania, QNX Sytems, etc.– in a bid to spruce up its long-in-the-tooth BlackBerry OS and stop both eroding market share and dwindling customer loyalty.
Perhaps most significantly for BlackBerry design, RIM announced in December its purchase of Swedish UI-specialists The Astonishing Tribe (TAT). The fruits of this deal can already been seen within the BlackBerry PlayBook software interface, which is much more modern feeling than the current BlackBerry smartphone OS, and PlayBook apps like the popular Scrapbook software.
It's good to see RIM staying aggressive and attempting to make moves to address its perceived weaknesses, because rivals like Apple, Google and Microsoft are really starting pick up the development pace, and RIM is in danger of falling too far behind to compete.
And it should be interesting to see what comes of the company's work with RIM and BlackBerry.
AS
via GigaOM
Al Sacco covers Mobile and Wireless for CIO.com. Follow Al on Twitter @ASacco. Follow everything from CIO.com on Twitter @CIOonline and on Facebook. Email Al at asacco@cio.com