BlackBerry-maker Research In Motion (RIM) is expected to soon unveil a number of new BlackBerry smartphones in time for the summer season, and for the most part, these upcoming device will be no secret to gadget geeks and other Web watchers–though RIM has only officially announced one of the expected handhelds: The BlackBerry Bold 9900. (Read my first impressions of the Bold 9900.)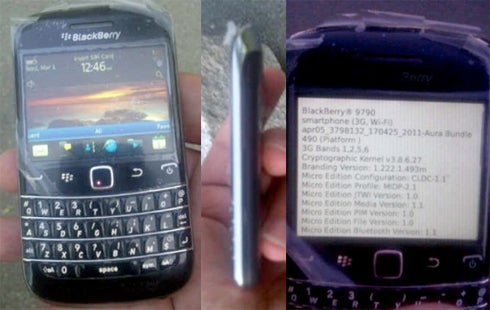 Thanks to leaked product roadmaps, and a handful of unauthorized video clips and images, it's known that RIM plans to release at least four new BlackBerry devices in the coming months, including the BlackBerry "Torch2," the BlackBerry Touch or "Storm3," a new BlackBerry Curve, and the above mentioned Bold 9900. (Read more details on these unannounced BlackBerry smartphones.
But today an as-of-yet unseen BlackBerry appeared online in a new set of images: The BlackBerry Bold 9790. A few of the device's technical specifications are as follows, according to the site that leaked the images, RealityMirror.me:
8 GB internal memory
OS 7
QWERTY / QWERTZ Keyboard
Touch Screen
NFC
The new device also looks very much like its BlackBerry Bold 9700 and 9780 predecessors, though it's supposedly thinner and sleeker. It will reportedly run RIM's BlackBerry 7 OS. And it will support NFC. (Check out a video of NFC in action on the Bold 9900.) Perhaps most notably, the BlackBerry 9790 is said to have a touch screen in addition to its trackpad for navigation and RIM's full QWERTY keyboard—just like the Bold 9900.
However, as pointed out on CrackBerry.com, it's entirely possible that the device pictured is an early prototype BlackBerry that will never make its way to market. There's a chance this 9700-series device simply wasn't listed on the leaked BlackBerry roadmaps seen in the past, but I have a feeling that CrackBerry is right; its seems unlikely that RIM would be simultaneously working on two new Bold devices with very similar features and aimed at the same type of BlackBerry "power user."
Regardless, we should see the new BlackBerry Bold 9900 released in or around August, and you can expect RIM to make a few of the additional BlackBerry handhelds mentioned above official right around the same time.
AS
RealityMirror.me via CrackBerry.com
Al Sacco covers Mobile and Wireless for CIO.com. Follow Al on Twitter @ASacco. Follow everything from CIO.com on Twitter @CIOonline and on Facebook. Email Al at asacco@cio.com