If you haven't visited your Twitter settings in a while, now might be a good time to do it.
If you're an active Twitter user like I am and tweet and retweet others frequently throughout the day, you may have noticed yesterday that Twitter rolled out a new feature in which it sends you an email every time someone mentions you in a tweet or retweets or something you say.
The new feature is probably not problematic if you use Twitter intermittently—and likely you may even find it useful to keep up to date when you're not logged on. But if you're a regular and active Twitter user, you, too, probably woke up to more emails from Twitter than you'd care to see again.
Twitter appears to automatically opt you in to these email updates. Luckily, though, it's fairly easy to opt-out. Here's how to do it.
[For more Twitter tips, tricks and analysis, check out CIO.com's Twitter Bible: Everything You Need to Know About Twitter.]
How to Opt-Out of Twitter Email Alerts
1. Log into your Twitter account and select "Settings" from the drop-down menu under your username.
2. Select the "Notifications" tab and review the items under "Messages" and "Activity."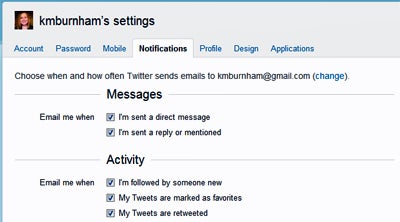 3. Check or uncheck the items to update your preferences, then click "Save."
As one coworker pointed out this morning, he doesn't mind the new email updates. He uses email rules, so everything Twitter-related is sent to a folder that he can ignore or read whenever he wants. That's certainly another option if you're not willing to opt-out entirely.
For me, though, I receive enough email as it is, and will be opting out. What do you think of Twitter's new email alerts?
Kristin Burnham covers consumer technology, social networking and Web 2.0 for CIO.com. Follow Kristin on Twitter @kmburnham. Follow everything from CIO.com on Twitter @CIOonline and on Facebook. Email Kristin at kburnham@cio.com