(UPDATED: I just heard from Ringly PR, and I'm told that the company hit its funding goal of $60,000 less than 8 hours after its public pre-sale. That breaks down to somewhere around 400 rings sold. It would appear that there's a good number of ladies interested in this particular wearable.)
Smartwatches that display relevant notifications so you can keep your phone in your pocket until you really need it are hot these days, but most of them aren't exactly "lookers." In fact, most of today's smartwatches are hard to miss. (I'm looking at you, Galaxy Gear…and it ain't pretty.)
Ringly isn't the first company to announce a "smart ring," and of the other options, Ringly isn't necessarily the "smartest." In fact, the gadget is very simple. You customize a set of notifications for phone calls, messages, calendar items, social media sites and other select apps via the Ringly iOS or Android apps, and the ring either flashes colors or vibrates based on your settings.
Ringly doesn't have a display. You can't place phone calls and talk to your finger. It doesn't play your favorite tunes. And you can't take photos with it.
What's interesting about this particularly piece of wearable tech is that it doesn't look like wearable tech. It's somewhat large, and maybe a bit bulky, but it's also kind of cool looking. Some might even say fashionable — which just isn't a word that's typically associated with wearables.
Obviously, Ringly is designed for women, and its target customer base is somewhat limited. But I think the company is on to something. Wearable tech isn't going to really catch on in the mainstream until "normal," non-techie people feel comfortable — even slick, sexy, whatever — wearing it. I think wearable tech will also eventually evolve to be as unobtrusive as possible, and though a flashing and vibrating ring doesn't exactly fit that bill, it's still a step in the right direction.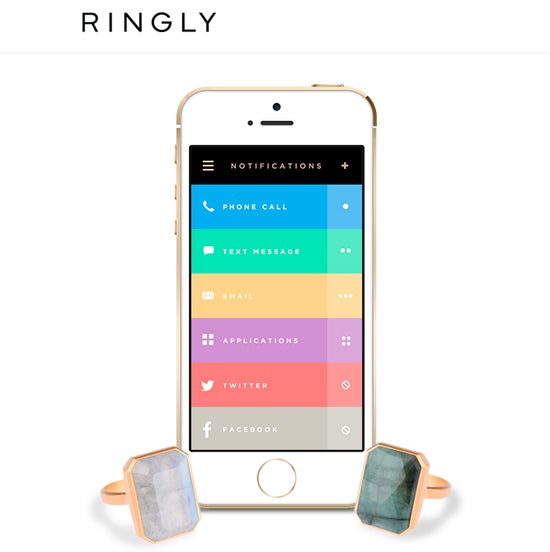 Ringly isn't available yet (you can preorder starting at $145), and the idea of smart rings may not prove to be viable. But the wearable tech that catches on with consumers will not only be functional, it will be fashionable. Ringly is one of the most fashionable wearables I've seen.
Visit Ringly.com for more details.
AS