Do you want a smartphone or a shopping machine? If you want the former, give T-Mobile a try for seven free days. But if shopping at Amazon is what you really need a mobile device for, Amazon's new Fire phone might be your cup of chai.
Wednesday was a rare double header in the tech world, with two major companies announcing major stuff within hours of each hour in the same city. Amazon announced the Fire, a high-end Android phone optimized for shopping on – where else? – Amazon. T-Mobile, the number-four carrier that has become something of the bad boy of the telecom world, announced two new programs aimed at convincing customers to divorce their current carriers and sign up.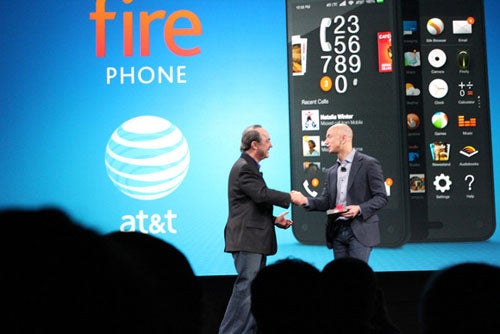 T-Mobile will let you try out Apple's iPhone 5s on its network for seven days with no charge or obligation. If you don't like it, simply head over to a T-Mobile store and turn it in. If you haven't dropped it into the toilet or otherwise damaged it, you're done. If you like it, welcome to the club.
As of Monday you'll be able to sign up for the trial on this page. T-Mobile will take a credit card number as security but won't actually charge you. The phone will come with its own phone number.
And if you do sign up with T-Mobile, you can take advantage of another new program introduced Wednesday: Subscribers to T-Mobile's Simple Choice plan will be able to stream music from popular streaming services without it counting against their data plans.
The best thing about the seven-day offer is that it lets you try out a phone in the environment where you'll actually use it. Just because a carrier says it has connectivity in your city, that doesn't mean that reception is good all over the place. Often it isn't, so I always advice people who are thinking of switching carriers to have a friend come to their home or office and see how well it makes calls and downloads data.
There are only two downsides. You'll only be able to try out the network with an iPhone. Of course if you opt to stay with T-Mobile you can buy any phone you want. The other downside is that configuring a second phone to work with your contacts and email accounts and so on could be tricky. But since the real point of the tryout is to see how well T-Mobile's network performs in your environment, that's not a major problem.
As to Amazon's Fire phone: I was very surprised that Amazon decided to go old school and partner with just one carrier – AT&T. You can buy the phone for the full price of $649 or sign a two-year contract and pay $199. You can preorder it now, but it won't be available until next month.
The phone itself has a lot of snazzy features, including a 3D-like display and "Firefly" technology that lets you scan an item and buy it on Amazon. Until we try it out, it's hard to know how well it actually works, but I have trouble seeing why you'd opt for this phone instead of an iPhone or a Galaxy unless making it easier to shop at Amazon is very important to you.
Image: PCWorld