We all have stories to tell. Products to promote. Training to offer. Whatever it is you want to share, Adobe Voice is a terrific app for capturing your message. The iPad-only app is free, though honestly I'd happily pay for it.
Adobe Voice is designed to let you tell a story in your own words, using your iPad's microphone. You illustrate the story with images pulled from your iPad Camera Roll, Facebook, Dropbox, an Adobe Creative Cloud account or from a library of 25,000 images.
To begin, you choose from among nine story-telling templates (called "structures"), or make up your own. From there, just decide if you want to use an icon, a photo or text as your first visual segment. Then hold down the record button to speak and let go when you're done. After that, it's on to the next image. After a while, you have a series of image/recordings, which you can rearrange using the timeline at the bottom of the screen.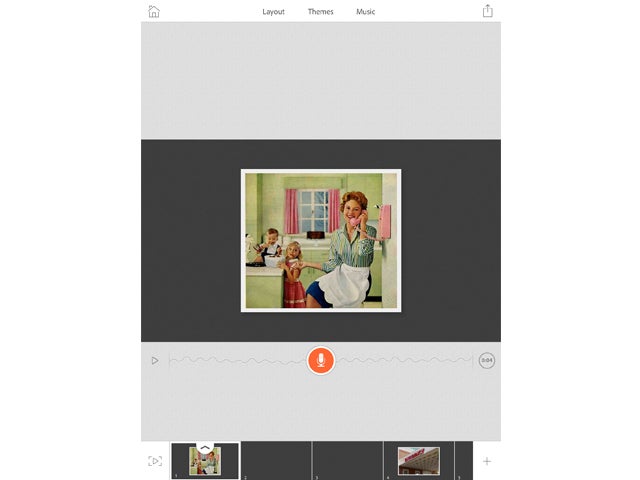 Adobe Voice also lets you change your presentation's layout and theme (there are lots to choose from), and add background music from the app's pre-installed library. I like many of the audio clips, especially "Building Tall," "Easy" and "Cup of Sugar." You can control how softly or loudly the music plays; you don't want to overpower your voice recordings.
When you're done, it's easy to share the animation via Facebook, Twitter, message or email. You can also upload it to the Adobe Voice gallery. I created mine as a tribute to my mother for Mother's Day.
Downsides? I'd like the ability to save the finished video to my iPad's Camera Roll or to my Dropbox folder, to use it in other ways. However, you can grab embed code for your presentation in the Adobe Voice gallery to post it on your website or blog.
You can't add video clips to your presentation. Also, something funky happens when I try to import images I shot and then cropped on my iPad. Adobe Voice imports the original uncropped images and not the cropped ones.
Is Adobe Voice unique? Hardly. Tapestry, Storehouse, and Steller are all similar, free iOS apps worth a look. I poked around the Google Play store looking for similar Android options but didn't see any. If you know of a great visual storytelling Android app, please share it in the comments below.
Minor complaints aside, I can see using Adobe Voice frequently for business and personal purposes. The app is extremely easy and painless to use, and it gives you enough freedom without overloading you with too many choices.