This morning, Amazon.com officially jumped up on the wearable technology bandwagon with the launch of its own wearables store page. Amazon has been an online source for popular wearable tech for years, but now the company offers a full store page dedicated to the various types of popular wearables.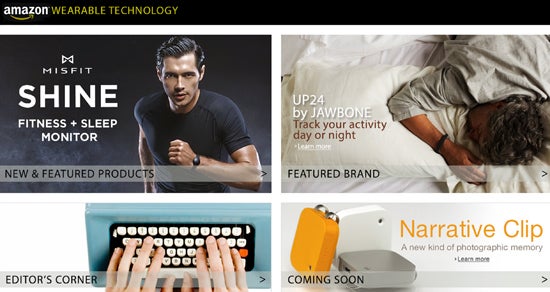 Amazon seems to have most of the major players covered, including JawBone, Samsung, GoPro, Pebble and Fitbit. (Nike is notably absent.) The page is organized by categories including Fitness & Wellness; Healthcare Devices; Wearable Cameras; Smartwatches; and Family, Kids & Pets. It also features a wearables Learning Center that includes buying guides and a video library of popular products.
The Wearable Technology: Editor's Corner currently has a post from Gizmodo.com on gadgets that run on body heat. And a Coming Soon page has updates on cool new products that will be listed on Amazon.com soon.
Up-and-coming wearable makers can also get in on the fun; Amazon is soliciting new vendors on the page. Interested parties should reach out via email to wearable-technology@amazon.com.
Amazon's news is notable because it creates a unique central online marketplace for wearables, and though other brick-and-mortar and Web retailers have created wearable-focused store sections or dedicated pages, few have the reach and resources of Amazon. Amazon also offers many pricing options on most wearable devices, so users can shop around a bit for the best deals.
Wearable tech is not only taking the consumer world by storm, it's starting to show real promise in the enterprise, as well. (Hit this link to see how The Container Store is currently using wearables.)
Amazon's new Wearable Tech page is located at Amazon.com/WearableTechnology.
AS
Al Sacco was a journalist, blogger and editor who covers the fast-paced mobile beat for CIO.com and IDG Enterprise, with a focus on wearable tech, smartphones and tablet PCs. Al managed CIO.com writers and contributors, covered news, and shared insightful expert analysis of key industry happenings. He also wrote a wide variety of tutorials and how-tos to help readers get the most out of their gadgets, and regularly offered up recommendations on software for a number of mobile platforms. Al resides in Boston and is a passionate reader, traveler, beer lover, film buff and Red Sox fan.