Preparing for a job interview can be unnerving. It helps to practice a lot before the big event. In that spirit, human resources professional Tiffany Gibson created an app/game called Get The Job. The idea is to step you through a series of questions to test your knowledge of the job interview process and see how prepared you are.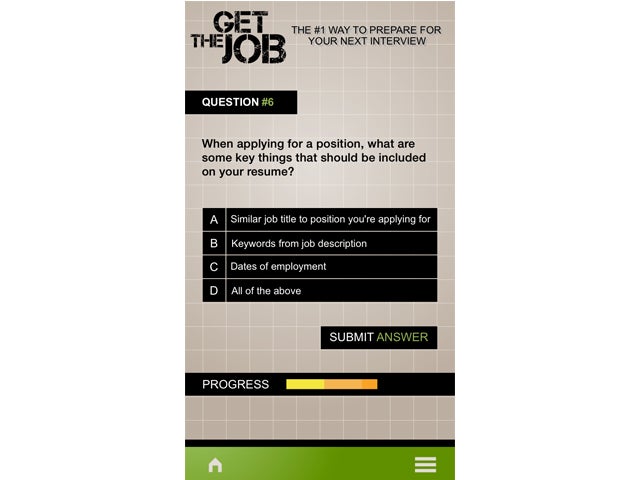 Get The Job is available in a free, lite version (for iOS and Android) and a $1 app (iOS and Android). I tested the lite iOS app and the paid Android version. The free app isn't worth your time and gives "freemium" a bad name.
For example, all versions of the game are divided into five different blocks of questions: 10 Questions, 20 Questions, 30, 40 and 50. The free app limits you to 10 Questions. Anything beyond that is blocked by an "Upgrade Today" button. Oddly, when I tapped the button in the iOS app, it took me to a GoDaddy.com page that asked "Want to buy getthejobapp.com?" When I clicked a "Learn More" button, I was taken to another GoDaddy.com page, that stated "Build a website from your iPhone!" Say what?
In the free app, many of the 10 questions I was asked were easy to answer. Two examples:
* You should map directions to the job location before your interview. (True or false?)
* Who should accompany you on an interview?
a. No one
b. Friends
c. Kids
d. Parents (or other family members)
The free app asked more challenging questions, though the answers to some are debatable. For instance, one true/false question asked if it was OK to wear business-casual attire to a job interview. In my opinion, the correct answer is: it depends on the company. If you're interviewing at a law firm in New York City, business-casual attire is probably not a good idea. But if you're going for an engineering position at a Silicon Valley startup, a hoodie is probably considered business-casual and could be perfectly suitable.
I think Gibson has a good idea here. But the app feels a bit sloppy at times, with occasional grammatical errors. The freemium version is nearly useless and, on top of that, it can be annoying. I'd also like to see more context given to some of the questions.