Carousel is a new photo and video sharing app from Dropbox for Android and iOS that was announced on Wednesday. The app's release is also a sly move to get you to buy into Dropbox's cloud storage/syncing/sharing service. If you already use the Dropbox service, as I do, downloading the free Carousel app is a no-brainer.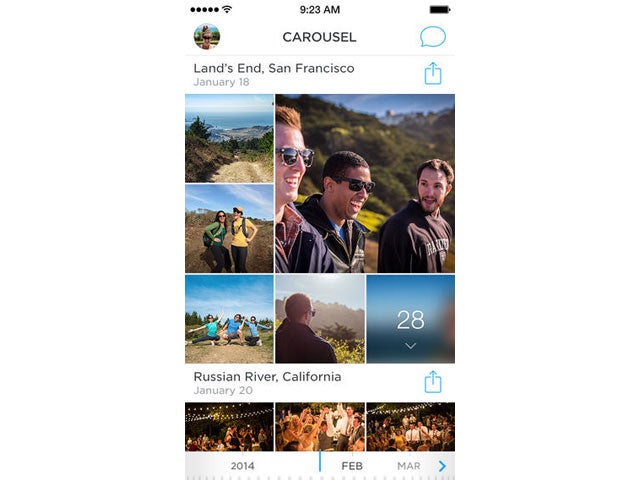 (Image: Dropbox)
Carousel organizes pictures and video stored in Dropbox by date and, if available, location. There's a slider bar at the app screen's bottom, which enables you to zip through years of photos amazingly fast. In a few seconds, you can go from photos taken five minutes ago to pictures from five years ago. Consider it an easy way to troll for material for Facebook's Throwback Thursdays.
One more reason Carousel is worth adding to your Android or iOS phone: It automatically backs up photos taken with your device's camera to your Dropbox folder. By default, this happens over Wi-Fi only, but you can change it to Wi-Fi and cellular in the app's settings.
Of course, there are other ways to automatically back up your smartphone pics. The Google+ Auto Backup feature for Android is one such option. The Flickr iOS app offers automatic backup (to your Flickr account), but this feature is currently missing from the Android app. Even so, Carousel's auto upload is super-fast, effortless, and it makes a lot of sense if you're a Dropbox user.
Carousel isn't a full-featured app, at least not yet. For example, when I started scrolling through my pics, I saw a bunch of images I wanted to delete, such as old screen shots taken for this blog.
You can't currently delete images in Carousel, however; you can only hide them from the app's gallery. To delete them, you must use Dropbox itself (the app, website, or folder on your computer). That said, as soon as I deleted an image file from my Mac's Dropbox folder, it disappeared from Carousel on my Android tablet and iPhone. Impressive.
Carousel makes sharing multiple photos or videos with others from your Dropbox folder fast and easy. It even features its own in-app messaging.
Whether or not Carousel is for you largely depends on how you feel about Dropbox and its pricing. While Dropbox gives you 2GB of free storage, it lags behind competitors such as Microsoft's OneDrive (formerly SkyDrive), which offers 7GB of free space. You can get more storage by referring friends to Dropbox. And you can get 100GB of storage for $99 a year, which is more expensive than some competitors. I balk every year at paying that price. But I do it anyway. Dropbox, in my experience, is worth it. The service works effortlessly and reliably. And with Carousel, Dropbox just became a little more valuable.