It's not difficult to dislike Microsoft. It had monopoly-like power over the PC industry for years. Its products can be infuriatingly quirky. And it's never been nearly as cool as Apple. But when it comes to the upcoming demise of Windows XP, the company deserves a break.
Windows XP has been around for nearly 13 years. (It went on sale in October 2001.) Microsoft has faithfully supported it all this time by churning out security patches and keeping malware signatures up to date. The company is pulling the plug on much of that support on April 8, and by now you've likely heard numerous arguments (possibly even mine) about why you need to upgrade.
You shouldn't hate on Microsoft, though. Think about how Apple handles the same issue. When that company releases a brand new OS, it doesn't make much effort to continue support for older versions, and new Apple software is often not available for older versions of OS X.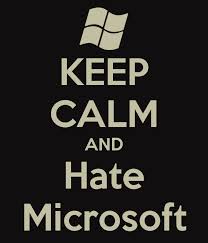 That's Apple's choice, and if you're an Apple customer you probably don't mind. Microsoft took a different path, and it spends a lot of money to support customers running older versions of its software. If you purchased a PC running XP 12 years ago, you've enjoyed more than a decade of security support from Microsoft without paying it a cent.
In fact, you can argue that Microsoft's policy of building backwards compatibility into its products (you can for example, run Office 2003 on Windows 7 or 8) bloats its code and makes it less reliable. At some point, why wouldn't Microsoft put an obsolete product that earns it no money to rest?
On April 8, Microsoft will no longer offer security patches for XP. It will continue to update malware signatures and add them to its antivirus program, Microsoft Security Essentials, which you can download for free. The problem, though, is that antivirus programs don't protect against threats that target the OS, so even with up-to-date antivirus protection from Microsoft or another vendor, your system will still be vulnerable.
One way to avoid future issues with XP is to simply upgrade your operating system to Windows 7, which looks and behaves a lot like XP. Some really old PCs don't have the horsepower to run Windows 7, but you can find out if you machine is compatible by downloading the Windows 7 Upgrade Advisor. Although Microsoft no longer sells Windows 7, it's easy to find legal copies online at Amazon and other locations. (Note: Much of the Windows 7 software you see for sale online is not the upgrade version, and it requires a clean install, which means everything on your hard drive will be wiped out.)
It costs more, but I think you're better off buying a new PC. You can still find some equipped with Windows 7 from HP, Lenovo and Dell if you want to avoid Windows 8. These systems tend to be older than those shipped with Windows 8.1, but they're plenty good enough for most tasks.