Microsoft finally released an official version of Office for iPad tablets yesterday. So are the Word, Excel and PowerPoint iPad apps worth the money and the trouble you may have to go through to fully use them? Were they worth the wait? My initial impression, after some brief hands-on time, is yes — though there are caveats.
Let's talk money first. The three Office apps, along with OneNote for iPad (which has been out for a while), are all free to download. However, if you need to create new Office files or edit existing ones using any of these individual Microsoft apps, you need to pay up.
Specifically, you must subscripe to Office 365, and pricing starts at $100 annually for 5 PCs/Macs plus 5 iPads or Windows tablets. The personal version, which includes Office 365 for one PC/Mac and one tablet, will be available this spring for $70 annually.
Now, the extra steps. To get the full advantage of working anywhere, anytime on your Office files without having to think about what you need in advance, you should keep your files stored in a Microsoft OneDrive, OneDrive for Business, or SharePoint site account. If you're already doing that, great. But if you rely upon Google Drive, Box, Dropbox, or another cloud storage/syncing service, you need to make some adjustments. For example, you can open the Dropbox app on your iPad and open, say, a text document in Word on the iPad to edit it. But then getting the edited document back into Dropbox is a hassle. It is much easier if your docs live in OneDrive or SharePoint.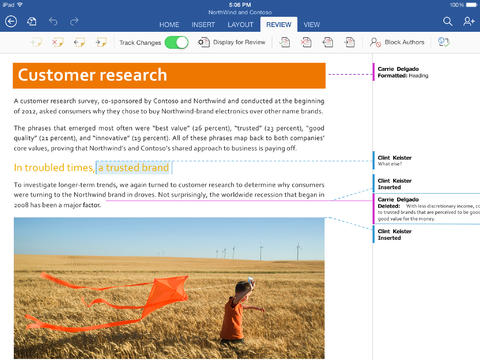 (Screen shot: Microsoft)
You can also open files sent as email attachments in Office iPad apps, and you can save files created in the apps locally to your iPad. That's a nice feature, especially if you're working without an Internet connection.
For the most part, OneDrive (formerly SkyDrive) is a worthy competitor to those other cloud services. But I've always had an issue with it on my Mac. Office files edited or created on my Mac and stored in my OneDrive folder can take quite a while to sync with OneDrive in the cloud and to my iPad or iPhone. (Microsoft released an Office suite for iPhones last June.) I had this problem with SkyDrive, and I still have it with OneDrive — which is why I will continue to rely on Dropbox, which syncs files rapidly between devices.
So how do the Office apps work, OneDrive issues aside? Overall, I like them and plan to use them regularly. The apps are more powerful than the browser-based Office Web Apps, which are now called Office Online. But they're not exactly the same as their desktop counterparts. Even so, Microsoft did a nice job providing the features you care most about in Office and bringing them over to the touchscreen iPad environment.
For example, in Word for iPad, you have find and replace; track changes; comments; word count; support for headers, footers and page numbers; the ability to insert tables, pictures, shapes and text boxes; and more. As you'd expect, your documents maintain their formatting when you switch between, say, your PC and iPad. That's not always the case with third-party, Office-compatible apps.
Microsoft Office on the iPad has been a really, really, really long time coming. And if you're an Android user, you're still waiting. (Rumor has it Office for Android is in the works.) For the most part, though, the wait was worth it — if you don't mind paying Microsoft's annual subscription fee or moving your most-used files to OneDrive.