Barack Obama famously took a "selfie," as did Ellen DeGeneres. Selfie was the Oxford Dictionaries Word of the Year in 2013. And now, Apple has added a "Sharing Selfies" section to its iOS App Store.
Clearly, selfies are popular right now. Before I spotlight three iOS selfie apps, allow me to attempt a selfie intervention.
In San Francisco, where I live, I frequently encounter two or more people taking selfies with, say, the Golden Gate Bridge as a backdrop. When possible, I offer to take the photo for them, for several reasons.
First, front-facing smartphone cameras take inferior pictures compared to rear-facing cameras. It can also be a Herculean effort to stretch your arm out far enough so that you're not simply photographing your nose. Also, if you're outside, you often need to squint into the sunlight (because you should be facing the light) while trying to frame the picture on your smartphone screen.
In other words, a selfie is a set-up for failure, at least from a photography point of view. Selfies should really only be a last resort. Still, at least half the time I offer to take someone's photo for them, they decline. Either they prefer selfies, or they suspect that, once their phone is in my hand, I'll cackle malevolently and run away with their phone.
At any rate, the selfie is not likely to go away anytime soon. So if you're determined to get the best selfies, here are three apps to try.
Frontback
With Frontback (free), you get two photos in one. The idea is to shoot a pic of what you see in front of you, using your iPhone's main, rear-facing camera. The app then automatically switches to the front-facing camera, so you can take a selfie showing your reaction to the first picture. Frontback merges the two pictures into a single image file, the first atop the second, which you can share via Facebook, Twitter, Tumblr, email or other message. You can also view publicly-shared Frontback selfies, some of which are clever, such as a photo of bird feathers atop a selfie of an apparently contented cat. If you're a die-hard selfie fan, download Frontback and start giving your pictures some meaningful context.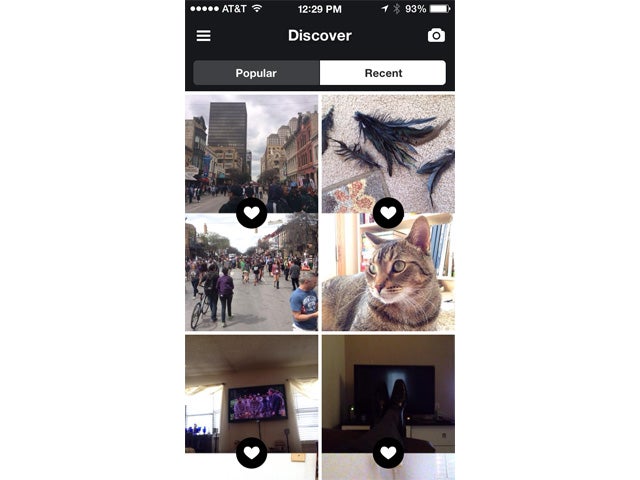 GorillaCam
GorillaCam (free) is meant to be used along with the flexible GorillaPod stands, mounts and tripods, though it works well on its own. I love GorillaCam's self-timer and rapid-fire burst modes. For example, when taking a group selfie, the self-timer gives you time to position your iPhone and get everyone in the shot. Also, you don't have to manually snap the shutter button. The rapid-fire burst mode takes a user-defined number of pictures within seconds, so you can choose the best and delete the rest. Or you can encourage everyone to strike a different pose for each shot, which can result in hilarious pictures.
Everyday
The idea of Everyday ($2) is simple. Set a reminder to take a selfie every day at a certain hour (or set multiple reminders to take pictures throughout the day). When the appointed time arrives, snap your selfie. Over time, you'll have a bunch of pics you can use to create an animated "movie" of your face. The app's gridlines make it easy to align your face in each selfie with previous pictures, for more dramatic effect. You can share your pics and movies on Facebook, Twitter, Tumblr and Flickr.
These apps are terribly self-indulgent. But that's what selfies are all about.