Instagram and Foursquare are probably the best-known apps that are also their own social networks. But others have emerged, including Vine, Trove, N3twork, and now, Findery.
Findery is a free iOS-only app/social network whose members post articles, photos, short video clips, historical info, business reviews and personal notes, all of which are geo-tagged to locations on a map. The idea is that through crowdsourcing, outsiders can get the inside scoop wherever they go. Findery, developed by Flickr co-founder Caterina Fake, also has a website that has been around since 2012 in beta mode.
I love Findery's concept. After all, who better to inform you about a city than its residents (or other travelers)? Findery is good-looking and nicely organized, too.
The home screen is organized into curated content channels. For example, in San Francisco (where I live), I'm presented with "SF's Local Businesses" and "General News" (by "SFlocal"); and "Neighborhood News" (by none other than Caterina Fake herself). The two other channels I see on my home screen are less obvious choices: "Did You Know…New York City" and "Trees of Canada." Say what?
Because Findery has been around for a while in beta (and on iOS in Australia), I found plenty of notes to explore in San Francisco. Some were personal notes, including one from a couple who planned to buy a car to drive to New York and then sell when they arrived. Their plans changed when they spotted a Craigslist listing from a New Yorker seeking someone in San Francisco who could deliver their car.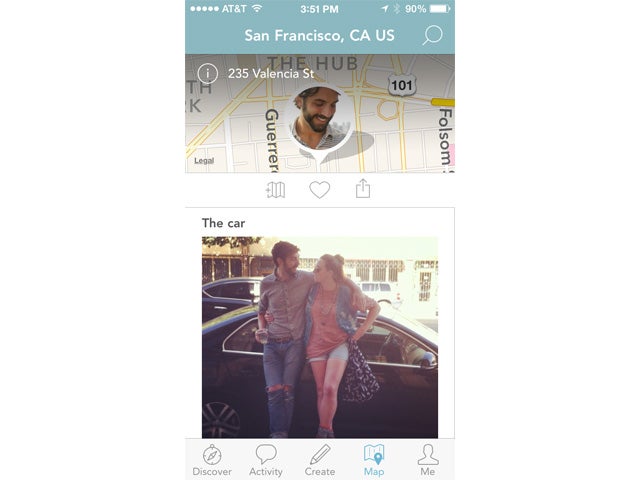 Did this story give me useful information about San Francisco? Nope. But I'm a sucker for personal stories. And this one — along with others like it — literally puts people on the map. One downside to Findery: I didn't see many new notes posted this year, but that could quickly change now that the app is widely available.
There are other apps that merge locations, notes, photos and social networks, including Trover (Android and iOS), Everplaces (iOS) and TourWrist (iOS). Google Maps lets you add photos and reviews, too. They're all worth checking out, especially if you're heading somewhere new. I have a slight preference for Findery at the moment, if only for the sometimes unexpected, quirky stories you discover.