T-Mobile CEO John Legere likes to act like a clown.
Shortly after his appointment as T-Mobile CEO in September 2012, Legere launched a long line of silly, childish stunts that both raised the executive's profile in the tech world and drew attention to whatever promotion T-Mobile decided to launch in a given week.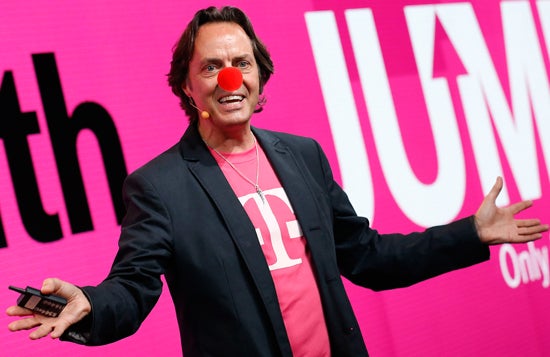 The man's success leading the company is unquestionable. Following a rough 2012, during which the carrier lost piles of customers, T-Mobile added more than 4.4 million new subscribers in 2013. Wireless customers have clearly embraced the company's "Uncarrier" strategy and aggressive pricing ploys. Plus, the carrier deserves some credit for shaking up the U.S. wireless space and bringing some control back to consumers, who now have many more plan and upgrade options — even though most don't really need them.
But as a T-Mobile customer, I'm increasingly turned off by Legere's antics, and I'm hesitant to continue supporting an organization that thinks name calling, taunts toward rival carriers and grade-school, bully-like challenges are a good way for its chief executive to present his company to the world. Again, I realize what Legere is doing is working for T-Mobile. But it's also painting an ugly picture, and it's really turning me, a long-time customer, away from the carrier.
Legere played the role of standup comic last spring when he introduced the company's "Simple Choice" wireless plans in a profanity-laced press event in New York City. Then again, at CES in January, Legere "crashed" an AT&T party. He has consistently targeted AT&T with juvenile insults, perhaps most notably in a recent radio spot that parodied CeeLo Green's popular "F@#$ You" song, replaced the chorus with "Forget You" and suggested AT&T customers drop their carrier for T-Mobile. I could go on and one, but it's really just more of the same.
The man's latest "performance" involved a promotion meant to convince BlackBerry users to switch to iPhones, and it just seems unnecessary. BlackBerry is already down and (almost) out, and Apple is having no problem selling iPhones, last time I checked.
BlackBerry CEO John Chen responded to Legere and his anti-BlackBerry promo, reminding the fellow CEO that the two companies had a mutually beneficial relationship for years. I don't believe that T-Mobile necessarily owes BlackBerry anything or that the carrier should somehow "help" BlackBerry because of their history together. T-Mobile has every right to push one device over another. But the what-have-you-done-for-me-lately, kick-him-while-he's-down promo, and Legere's immature response to Chen's letter, on Twitter of all places, spotlights an attitude that I want nothing to do with.
A quick email conversation I had yesterday with CIO.com blogger Bill Snyder just about sums the whole thing up:
Me: T-Mobile's CEO seems like an [expletive]. He just annoys me.

Snyder: He is an [expletive], but not a dumb one. His act has gotten a lot of free publicity for T-Mobile and he's clearly provoked the other carriers.
I don't blush easily. I'm not afraid of four-letter words. I'm all for a bit of friendly competition between rival tech companies. But Legere seems like the kind of person I'd avoid at all costs in "real life," and even if it's all an act, I don't want to support it. What Legere's doing for T-Mobile is working. But it could also prove to have a less-measurable – but just as significant – cost on brand image.
AS