It should shock no one to learn that Ken Burns, the man behind such critically-acclaimed documentaries as The Civil War (1990), has released a classy, highly-polished and fascinating iPad history app. Still, there are a few surprises in store for people who download the free app, which is simply titled "Ken Burns."
The app brings together clips from various Burns documentaries through the years. The clips are arranged along a timeline of American history, starting in 1776 and going through present day.
A navigation bar along the top offers access to clips organized into six topics: Art, Hard Times, Innovation, Politics, Race, and War. Along the bottom, you can jump to clips from specific Ken Burns documentaries, beginning with Brooklyn Bridge (1981), his first, all the way to The Central Park Five (2012), his latest. Some clips are new introductions from Burns, but most are excerpts from the documentaries.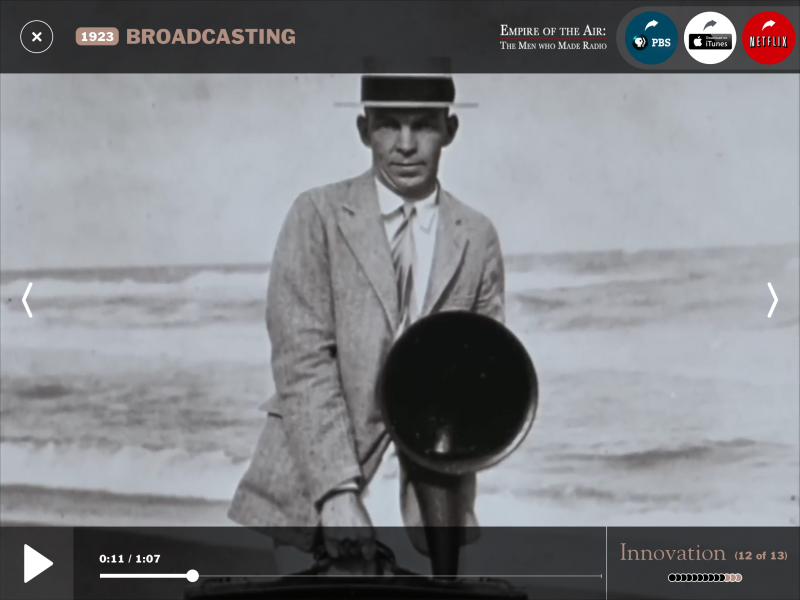 Among the app's surprises:
Surprise No. 1. Jazz music is considered by some to be a form of "classical music." In a clip from Burns' Jazz documentary, critic Gary Giddins talks about Louis Armstrong's impact on American music. Armstrong, says Giddins, invented swing music, which is to say, he created "modern time." The music Armstrong created in 1928 still excites us today, he adds. "And if that's not classical music, I don't know what is."
Surprise No. 2. Broadcasting used to be a farming term. Up until the early 1920s, broadcast was a term used solely to describe the scattering of seeds in farming. After the invention of radio, the number one meaning for broadcast was related to the transmission of a radio program.
These are just two things I learned from watching the clips. I could write an entire article about the other fascinating stuff. But let's get to the most important surprise.
Surprise No. 3. Though the app is free, it costs $10 to unlock the majority of content. For example, the clips in the Innovation playlist are accessible for free. But if you venture much beyond that — and you'll want to — you have to fork over the $10 to "unlock" the other clips.
The Ken Burns app isn't exhaustive in its coverage. And the links to watch the entire films are obviously designed to encourage you to buy the films on iTunes or from PBS, though some are available via Netflix.
Even so, $10 is a reasonable price to pay for such a rich archive of historical highpoints — the kind that don't simply regurgitate history but make it come to life.