Is maple taro root pudding good or bad for you?
That was one of the questions posed recently in Jelly, the new Android, iPhone and iPod touch app from Twitter co-founder Biz Stone. Jelly, released earlier this week, lets you share photographic queries with your networks on Facebook and Twitter. The idea is to tap into the collective knowledge of your connections in a way that's easy and fun. Just snap a pic, tap out a quick query related to the image, share it, and wait for answers.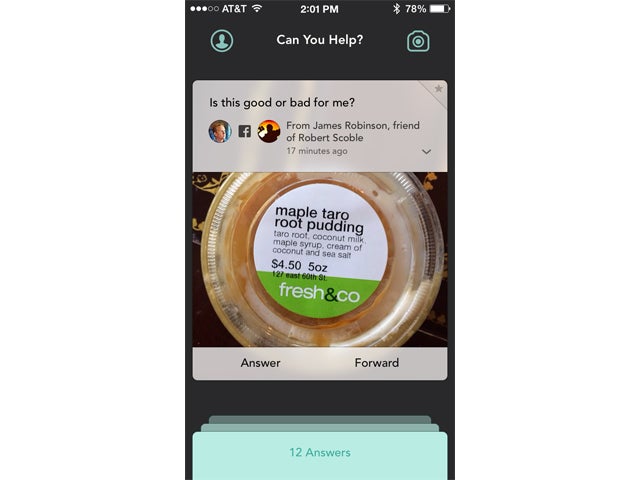 It's too early to say whether Jelly will become truly useful. Judging from what I've seen so far, however, it has potential to be helpful — and incredibly useless.
Consider the maple taro root pudding question, which received 12 answers of as Thursday afternoon. Among them:
"(Maple taro root pudding is) good for you. If your standard for good is 'will make you spend all day on the can.'"

"Taro root is really good for you but idk in a puddling tho." (Typos are courtesy the person answering the question.)

"I'm going to guess you live in California?"

"There's way so much goodness it that bad."

"Definitely worse than eating the taro in a more pure form. Juicing robs the food of its fiber and also allow you to consume an unnatural amount because the density increases. Adding maple syrup also not great. I vote bad."
Of the 12 answers, the last one I quoted was the most thoughtful. The rest were too smart-alecky or terse to be of much help. Some other questions received intelligent responses:
Q: "We had the orange trees pruned. What do we do with hundreds of oranges?"

A: "Homeless shelter?"

Q: "I need to get a car from the East Coast to the West Coast. Long story, but I just drove it there six months ago. Need to decide to drive it back or ship it. Any tips about costs or car shipping services?"

A: "If I were you, I would post on UShip, get some independent carriers to bid for the shipping job to haul it back. A car carrier should do you a good deal on a shared load."
For quick answers to questions using pictures, Jelly isn't going to replace Google, the Google Goggles Android app or the image search in the iOS Google Search app. One reason: When you post a question to Jelly, it can take several hours before you receive a response — maybe even longer for a useful one. Still, I like the idea and expect it will improve with time as it gains more users. In the meantime, I suggest staying away from maple taro root pudding.