Thanksgiving has come and gone. But it's never too late to give thanks. And I'm grateful for the following Android and iOS apps.
Each of them, in their own way, gives me something that's continually useful, cool and/or fun. And they all make me remember why this is a golden era of mobile computing. There are so many apps, and so many of them are creative and innovative—and free. Or, at most, they cost a couple of dollars. It wasn't that long ago that we shelled out several hundreds of dollars for desktop software that provided utility, but rarely inspiration.
For this post I picked my 10 personal favorite apps of 2013. Some are brand-new; some are updates; all are awesome. I organized the top apps into categories: calendar, email, news, photography, utilities, video and weather.
Best Calendar App (Tie)
Tempo Smart Calendar
iOS; Free; Reviewed March 2013
There have been lots of new and improved calendar apps this year, but Tempo stands out for its many helpful features. Tempo adds context to your calendar appointments, so, for example, while on the way to a meeting you can check out participants' LinkedIn pages. Sure, you can do that separately, but Tempo saves time and effort. It's a great-looking app as well. Too bad there's no Android version.
Cal
iOS and Android; Free; Reviewed December 2013
Cal is kind of like Flickr for your calendar, in that it provides beautiful photos as a backdrop. Does this help you in any practical way? No, but it sure makes your day look better. It's one of the best-looking calendar apps available, and it provides plenty of features too, including integration with the free Any.do to-do list app. (Both apps are from the same developer).
Best Email App
Mailbox
Mailbox makes it a breeze to organize your email messages, and you can delete or archive with a quick swipe or icon tap. The "snooze" button alone is worth the free price of admission. It lets you easily snooze messages you want to read later. Mailbox supports Gmail, Google Apps, and iCloud email services, with more promised soon.
Best News App
Circa News
Android and iOS; Free; Reviewed October 2013
Circa made my best list in 2012 for its iOS debut. This year, the innovative news-at-a-glance app was released for Android. The beauty of Circa is that it serves up the latest news in a bite-sized, smartphone-friendly format. But that doesn't mean it's superficial, with just headlines and bullet points. The editorial team behind Circa does a great job of distilling the essence of the day's news in a way that doesn't talk down to readers. And it's blissfully Kardashian-free. Anyone who wants a quick, insightful news fix should have this app on their mobile device, period.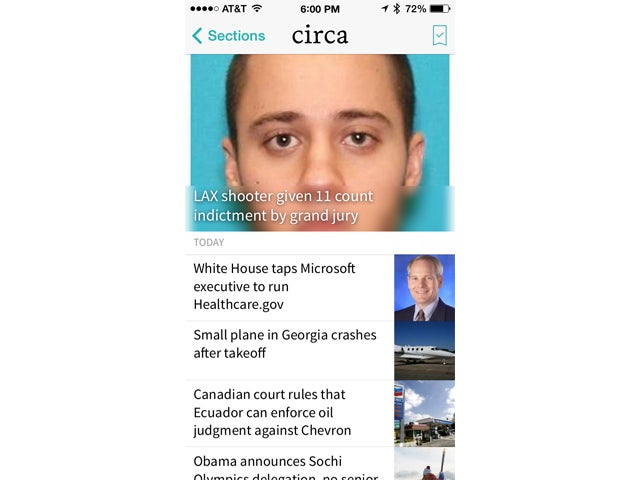 Best Photo App
Flickr
Android and iOS; Free; Reviewed May 2013
Yahoo released some great app overhauls this year, including a Flickr update. It makes sense for a photo sharing app to feature great photos, and on this front, Flickr doesn't disappoint. You can now pick from a variety of filters to add to your photos before uploading them, as well as enhance them by drawing on them, adding text, and so on. Even better: Yahoo gave Flickr users 1TB of free storage. Talk about an offer you can't refuse!
Best Travel App (Tie)
Desti
iOS; Free; Reviewed November 2012
There's no shortage of travel-planning iOS apps, but Desti for iPad is a stand out. Tell the app where you want to go (as long as it's in the United States), and it comes back with suggestions for walking tours, hotels, historical sites and more. You can browse hotel properties, compare hotel prices and book hotel rooms; read restaurant reviews; plan road trips on maps; and share travel research with others. It's an eye-pleasing app that gives you a head start on your next holiday.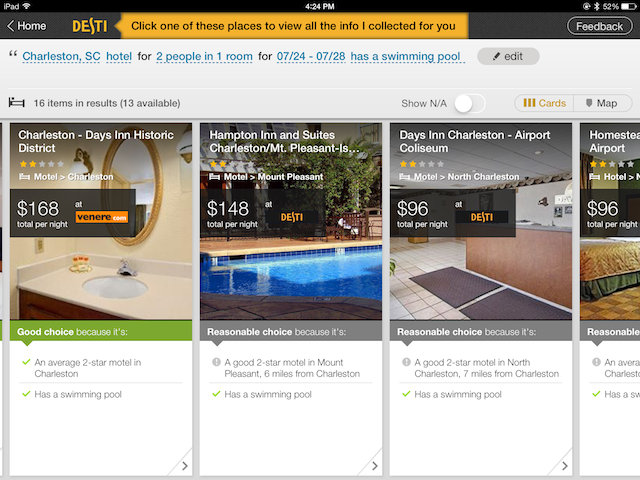 TripIt
Android and iOS; Free; Reviewed September 2013
There's no better traveling companion than TripIt, especially if you're a TripIt Pro subscriber ($49 a year and well worth it). The TripIt iOS app was updated in September with Google Now-like cards. Before traveling, you can swipe through the cards to view airline, hotel and car-rental reservations. Once you hit the road, the app serves relevant cards automatically as needed. For example, when you land at an airport, your rental car reservation card pops up. TripIt alerts you to airport gate changes and other information as you travel. To paraphrase the old American Express commercials: Don't leave home without this app.
Best Utility App
Everything.me
Android; Free; Reviewed May 2013
It's still in beta, but don't let that scare you. Everything.me is a cool Android app that transforms your home screen to deliver apps and information related to whatever you're searching for. If you type the name of a film into the search box, for instance, Everything.me temporarily displays a relevant photo from the movie as your home screen wallpaper. On your screen you see relevant apps, such as Flixster, with which you can find critical reviews of the movie, local showtimes and more. Simply put, Everything.me transforms your Android experience.
Best Video App
Instagram
Android and iOS; Free; Reviewed July 2013
Facebook's Instagram added a killer feature this year: video recording and sharing. The move came not long after Twitter unleashed its Vine Android and iOS apps, which are also sensational. But in a head-to-head, I lean toward Instagram's video feature. Among the differentiators: You can record longer snippets (15 seconds) than Vine (6 seconds) and share them on more social networks. Plus, it's just nice to have your video and photo sharing in one app/social network.
Best Weather App
Yahoo Weather
Android and iOS; Free; Reviewed April 2013 and December 2013
With Yahoo's much-improved apps, you can get your weather geek on while looking at stunning photos (courtesy of Yahoo's Flickr) and cool animations. Though this isn't the most data-packed weather app around, Yahoo Weather offers a solid mix of forecasts and fun, right down to the churning windmills. The app looks particularly awesome on iPad, too.
Your Turn
What were your favorite apps of 2013 and why?