Relatively cheap smartphones may soon be a thing of the past. And that's not necessarily bad for consumers.
Speaking at an investor conference in New York, AT&T CEO Randall Stephenson (left) said that the era of device subsidies is coming to an end, according to published reports. The reason: So many people now have smartphones – market penetration is heading towards 90 percent of all customers – that it's no longer necessary to use subsidies to lure new customers, he said. What's more, it's becoming less affordable for AT&T to subsidize an expensive new smartphone every couple of years.
"When you're growing the business initially, you have to do aggressive device subsidies to get people on the network," Stephenson said, "But as you approach 90% penetration, you move into maintenance mode. That means more device upgrades. And the model has to change. You can't afford to subsidize devices like that."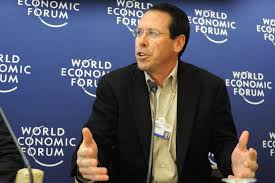 If you're not familiar with subsidies, here's how they work. Let's say you want to buy a new iPhone 5s. The 16GB model will costs $199 if you sign a two-year contract. But it costs AT&T as much as $650 to buy it from Apple. You pay the difference back to AT&T over the life of the contract. Generally it takes less than two years to make up the difference, so after that it's all gravy for AT&T.
Yes, it's a good deal for AT&T, but carriers have never really liked subsidies because they have to lay out lots of cash to buy the phones. In the future, AT&T could offer to finance the cost of those expensive phones, and that will rake in even more money.
Competition from other carriers, particularly T-Mobile, which did away with contracts earlier this year, is apparently pushing AT&T to make the change. T-Mobile has gained market share and served as a test case for the new, unsubsidized business model. Indeed, AT&T already made changes, allowing more frequent upgrades, and knocking $15 off the monthly bill for customers who bring (or buy) their own phones or keep them for more than two years.
We don't, of course, know if AT&T will actually make the radical change its boss outlined. If it does, it's not necessarily a bad thing for consumers. Phones will be expensive, but if AT&T also knocks some money off your monthly bill you could actually save money. We'll have to wait and see.
Here's the real takeaway: Mobile business models are changing rapidly. Some of the changes are going to be good ones for consumers; others will be full of gotchas. In the future you're going to have to do more homework and more comparison shopping to find the best deals.