In just one month, I went from being a Google Glass skeptic to spending $1,500 on the device. (Glass, Google's Internet-connected eyewear, is still a prototype and is expected to be commercially released sometime in 2014. You have to be "invited" to purchase the gadget.)
So what happened?
To paraphrase President Obama, my opinions about Glass are "evolving." The journey began in late October. After reading about a California woman ticketed for driving while wearing Google Glass, I wrote a blog post on Oct. 31 expressing my strong feelings that what she did should be illegal.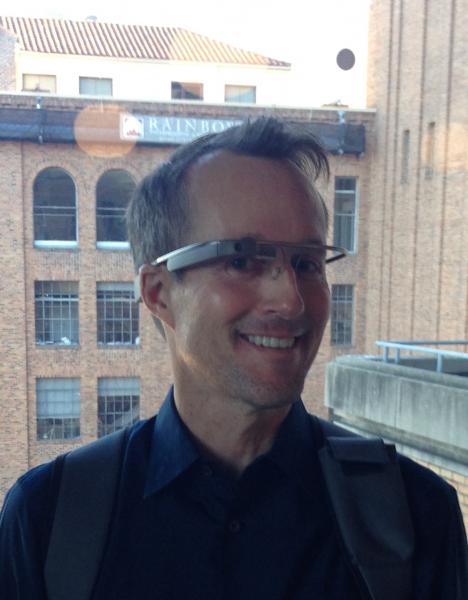 Almost immediately, I heard from a number of Glass "Explorers" — the phrase used to describe those who have purchased the Internet-connected eyewear. They argued that driving while using Glass for turn-by-turn directions is actually safer than getting navigation advice from, say, your smartphone. You can keep both hands on the wheel, and your eyes never have to drift far from the road, because Glass projects information on a small screen that sits above your right eye.
I'm still skeptical about driving with Glass — and I'm still convinced Glass makes you look hopelessly nerdy (see my picture, above) — but the more research I did, the more intrigued with Google's wearable tech device I became. Check out my recent articles, "How Safe is Google Glass for Driving?" and "Does Google Glass Pose Safety, Health and Security Risks?"
I decided, what the hell, I'd apply for an invitation to become a Glass Explorer. To my surprise, I received an email about a week later, informing me I'd been invited to join the program. (I suspect my affiliation with CIO.com didn't hurt.) So I went online, picked out the Glass color I wanted, and scheduled an appointment to pick up my futuristic eyewear at Google's San Francisco Glass showroom.
I've had Glass for two days now, and I have a few things to share about my experience.
* Go, Drink the Kool-Aid. For the full experience, you should pick up your Glass at Google's San Francisco, Los Angeles or New York locations if you can.
The SF showroom was sparsely decorated and sleek: power strips hang from ceiling to floor; there's a balcony with a fantastic view of San Francisco Bay and the Bay Bridge, perfect for making your first hands-free Glass video; friendly Glass-wearing staffers offer you free beer, soft drinks and cookies.
My Glass "guide," Martin, spent well over an hour patiently answering all my questions and enthusiastically encouraging me to "explore." With Glass at least, Google has armed itself with superb "brand ambassadors." They're all definitely drinking the Kool-Aid, and while in their presence at least, so did I.
By the way: Though you have to choose a specific Glass color when ordering online, you can change to a different color if you pick them up at a Glass showroom. (I picked "Shale," because it looks less obtrusive. White is also apparently popular.)
* With Glass Apps, Less is More. Not surprisingly, there aren't too many Glass apps yet. And you don't download apps per se but turn them on and off, either in the MyGlass Android app or on the Glassware page in your browser. (Both sync with Glass to activate/deactivate apps.)
Martin suggested that, initially, "less is more" when it comes to turning on apps. I agree; it's best to master the basics before you experiment with, say, the Facebook, Twitter or New York Times apps.
* Hold Onto That Sunglass Clip. The night after I picked up my Glass, I went to a Thanksgiving weekend party. I was hesitant to take Glass, then decided to throw caution to the wind.
In some ways, I was glad I did. "I feel like I'm experiencing history," said one young woman at the party who borrowed my cyborg specs. Needless to say, everyone wanted to try them out.
Unfortunately, at some point the sunglass clip fell out of my Glass storage pouch. I didn't realize it had happened until the following day — when I received a call from my host that the clip had been found, but was broken into two pieces. (The sunglass clip attaches to the Google Glass frame, behind the small Glass screen. It basically turns Glass into an odd-looking pair of sunglasses.)
I went to the Google Glass e-commerce page, thinking I'd just order a replacement. As of this writing, however, the sunglass clip accessory (which comes with a Glass purchase) isn't available. I called the toll-free Glass number on Sunday afternoon. The person I spoke with couldn't explain why the sunglass clip had disappeared from the site and was investigating having a replacement sent to me at no charge. He promised to get back to me within 48 hours. I called back the next day but was told the matter had not been resolved.
* Keep Tylenol Handy. Glass requires you to look up—way up—to see the screen. At times, it felt like I had to strain my eyes to see the screen's top. After wearing the device off and on for a total of about 30-45 minutes, I'd developed a headache that lasted the rest of the day. My vision was a bit blurry, too, and my eyes were dry. (I wear contacts.)
To answer your inevitable question: No, I haven't tried driving with Glass yet. But I'm going to give it a shot soon. And I hope that, irony of ironies, I don't get a ticket.