Desti, updated to version 3.0 on Thursday, just became one of the best travel-planning apps for iPad.
Desti is a travel search engine/content aggregator that helps you make choices more easily. To start you sign in with your Facebook account or create a new one. A brief but helpful tutorial steps you through the app's capabilities along with a touch of marketing, such as "It's like searching Google, TripAdvisor and Kayak at the same time."
To initiate a new search, you tell Desti where you want to go. (Desti isn't the iPad app to help you come up with new ideas for places to go. For that, I recommend Jetpac.) For now, Desti is limited to destinations within the United States, though international cities are in the works, according to the developer, Desti Inc.
After entering a destination, Desti prompts you with suggestions for the types of places to look for within your chosen city. Examples include "walking tour," "hotel," "bed & breakfast," "vacation rental" and "historical site."
I chose Charleston, S.C. (one of my favorite American cities), then selected "hotel." My next option was to tell Desti the number of guests and rooms I needed, followed by arrival/departure dates.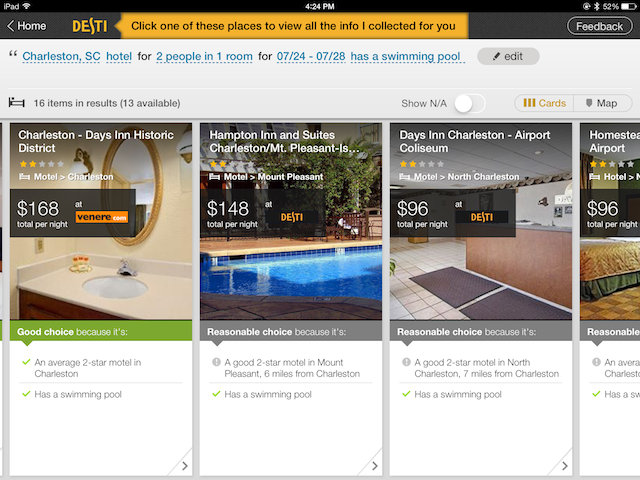 Desti asked for other preferences, such as "romantic," "has a spa," "under $200 per night," and "close to attractions." Curiously, "a Marriott property" was among the search preferences, though no other national hotel chains were offered up. Hey, developers of free apps have to make money somehow, right? I selected "has a swimming pool," then did my search.
Desti delivered 16 search result "cards" or thumbnails of properties that met my search criteria, though not all of the hotels were in Charleston proper. Sliding up on a card adds it to your "trip," and sliding down deletes it from your search results. Tapping the bottom right arrow serves up helpful information about the hotel, such as a summary of what reviewers say about it ("Rooms are quite small, according to guests"); a map; booking options from Expedia, Booking.com and other sites; and more.
Using Desti 3.0 you can share a trip you're planning with other Desti users, for collaborating Google Docs style; see vacation rental listings from HomeAway, VRBO and other sites; and perform restaurant searches.
Desti's interface is attractive and mostly intuitive, though it could be clearer how to build an entire trip, complete with hotel, restaurant choices and attractions. Also, I'd love to see Desti help you brainstorm places to go based on travel history or likes and dislikes. But it's hard to quibble with a free app that makes travel planning on your iPad so pleasurable.