Apple's iOS Calendar app is about as cutting-edge as a Palm Pilot. And frankly, I don't care much for the updated calendar in iOS 7, which actually makes it more difficult to create new appointments.
So I'm always on the lookout for "smart" iOS calendar apps, and 24me (free; optimized for iPhone/iPod touch) is one of the more intriguing contenders. The app just received a major upgrade, giving it some very unique capabilities.
24me has a bright, cheerful, modern look, unlike the unappealing retro vibe of EveryThink, another similar iOS calendar/to-do app I reviewed recently. Set up is fast, but not without a stumble or two.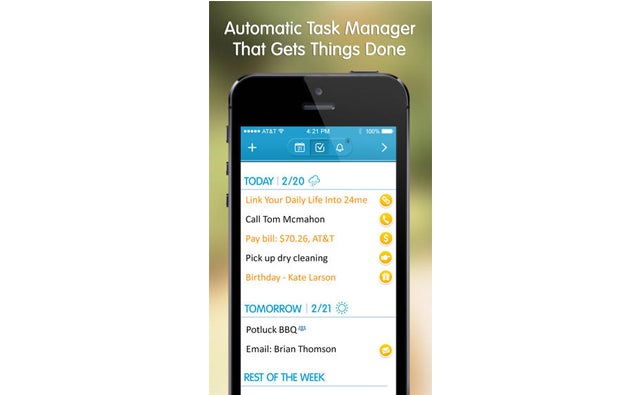 (Image by 24me)
I use Google Calendar for my appointments, and I sync them to Apple's Calendar app on my iPhone 5s. At first, 24me didn't see any of my calendar appointments. After shutting down the app and restarting it, my Google calendar showed up. But some other Google calendars I don't need to see on a daily basis and that aren't currently synced to my iPhone also showed up. There's no option to select the specific calendars you want to import, though 24me CEO Gilad Hertanu told me a calendar-filtering feature will be added within two weeks.
(Side note: Though it was 1 a.m. local time for the Israel-based CEO, Hertanu and Liat Mordechay, 24me co-founder and CMO, cheerfully answered my questions. Impressive.)
Otherwise, the app performed as promised. It shows both reminders and calendar appointments in one daily view. Setting up new meetings, calls, errands and tasks is super easy. Though you can set up new reminders using 24me, the app also integrates with Apple's Reminders app and Outlook Exchange.
24me's integration with other services is what sets it apart. Example: You can link a credit card or other financial service account to receive automatic alerts about events such as payments due. The alerts are combined with your other reminders and tasks, so they're all in one place. For financial links, the app partners with Check, an app/service that uses "the same 128-bit encryption and physical security standards as your bank," according to its website. You also have the option to add a four-digit passcode specific to 24me.
In the United States, 24me also partners with TaskRabbit to let you to set up errands in 24me and outsourcing them to TaskRabbit. If you have an appointment out of the office and you enter the location, 24me lets you quickly look up the location in Apple Maps, Google Maps or Waze, then gives you directions.
24me does lots more, too, such as let you schedule a gift (say, for someone's birthday), then gives you options for buying gift cards, chocolates, flowers and more.
The app is not currently optimized for iPads. An Android version is in the works.
Though 24me has some tough competition — especially from Tempo — it's a slick app that deserves a download.