Wouldn't you love a single iOS app that unifies your calendar, contacts, notes, Dropbox and Google Drive files, Evernote notes, maps, and the Web into one virtual workspace?
And while we're at it, wouldn't it be great to add an awesome drag-and-drop feature so you can, say, drag a contact onto your calendar to create an appointment?
I know I'd love that app. EveryThink HD ($7), released on Wednesday, wants to be that app. So does its little sibling, EveryThink (a separate purchase of $5), which has been out for a while but was recently refreshed for iOS 7. Unfortunately, neither version actually is that app.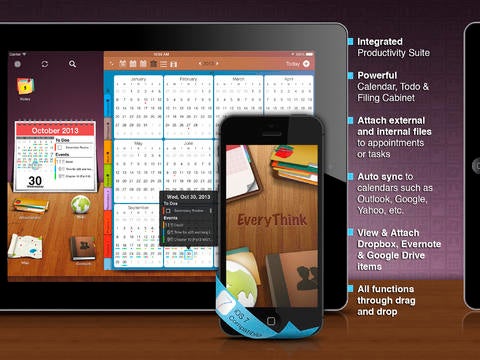 (Image by EveryThink)
EveryThink does everything I mentioned. You can create a new reminder or calendar appointment simply by dragging and dropping a note, Dropbox or Google Drive file, contact or something else onto your calendar or reminders fields. You can also add other elements to your appointments or reminders, including photos, contacts and Web links.
The app features what the developer says is patent-pending technology: "Drag-hover-Drop (DhD)."
When you select and drag something in most apps, you have to immediately drop it where you want it. Otherwise, drag and drop doesn't work. With DhD, you can press down on, say, a Dropbox file, and a free-floating icon for the file is generated. Using the icon, you can then drag the Dropbox file via its icon into a free calendar slot or onto an existing appointment, to associate the file with the appointment. In essence, DhD gives you time to navigate from one place to another, with the item you want to drop along for the ride, ready to jump into place when you're ready. It's a cool feature that I wish was more common.
So why won't EveryThink or EveryThink HD be my go-to organization app? The interface is retro and somewhat awkward.
With iOS 7, Apple took great pains to move away from iOS 6's skeuomorphic look and feel. EveryThink's interface, despite being designed for iOS 7, is a throwback to that era; an appointment book represents your contacts, folders represent attachments, etc. These things make the entire app feel out of date.
As for ease of use, I have one complaint related to tabs: The appointment book/reminders occupy the right-side of the screen on the iPad and take center stage on the iPhone. You can see everything in one view, including all of your calendars and reminders. But to see just one calendar — your work calendar, for instance — you must tap a tab to the left of the appointment space to select the desired calendar. But the tabs are extremely small on the iPhone and only slightly bigger on the iPad, making them difficult to tap.
EveryThink also lets you create folders of files from Dropbox, Google Drive and Evernote. Though this feature is convenient, the app's folder interface is awkward. Dragging and dropping a file from Dropbox into a folder is straightforward, but when you open the folder, you don't see files in it. You see the number of files attached to the folder. You have to click the "Attachments" icon to reveal the files.
Though I don't find EveryThink particularly compelling, some people could find it indispensible — with a little time to get used to the interface.