LinkedIn took its sweet time rolling out an iPad app. I reviewed it back in April 2012, and I liked the app but bemoaned the lack of features you get using LinkedIn in a desktop browser.
With its newly redesigned iOS and Android apps, LinkedIn means business. Version 7.0 is way better than its predecessor, especially the iPad app—which includes features not found in the iPhone/iPod touch and Android versions.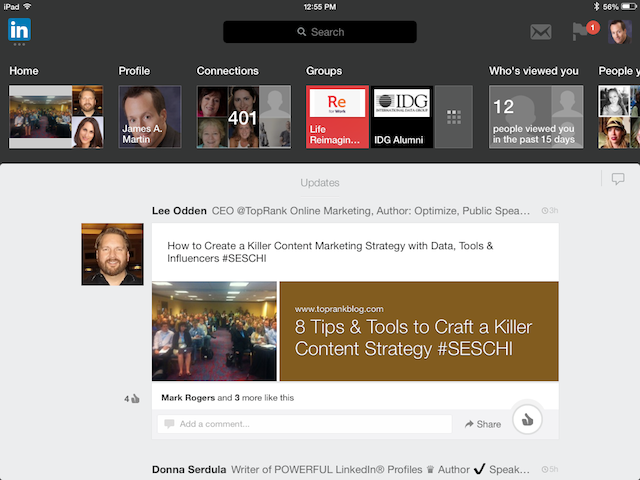 The new LinkedIn apps put your news feed front and center. Scrolling through, you see status updates from your connections; people you may know, with an easily accessible button to invite them to connect; companies to follow; and groups and jobs that might interest you.
Interacting with this content is easy to do without leaving the LinkedIn app. If you find a shared article interesting, tap to read it and it opens a browser page within the app. (You can also view shared videos without leaving the app.)
At the bottom of the browser pages for shared articles, you find LinkedIn's "like" button, along with options for commenting and sharing content.
Dragging down on the top navigation bar in the iPad app gives you touch-friendly access to your profile, which you can view but not edit; connections; groups; jobs; a new Influencers channel, which makes it easy to invite people to connect; and Channels, which are topical content feeds of likely interest.
There's honestly not much to complain about, but I've got a few minor gripes. I'd welcome an option to edit my profile, for one. And while it's super easy to invite someone to connect from your news feed, I didn't see a way to personalize the email invitation. I always send a personalized invite when I can.
OK, one more nit: LinkedIn hasn't optimized its Android app for tablets.
All that said, the revised LinkedIn mobile apps look great on iPhones and Android smartphones, but the iPad app is particularly sweet.