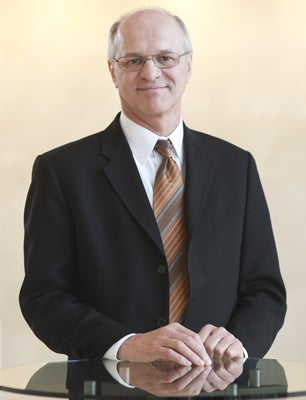 Perhaps the most vexing CIO Paradox of all is the Accountability vs. Ownership Paradox, where CIOs are accountable for the success of an IT project, but the business has to own it. As one CIO told me, in her former company, there were two kinds of projects: "business successes and IT failures."
I've been writing and talking about this particular paradox in the same way for over a year now, so when Wolfgang Richter, CIO of PWC, gave me a new model to describe the paradox, I was delighted.
The Model
To Richter, companies tend to have three layers:
The first is the business layer, which contains three primary components: 1) the products and services a company offers, 2) the company's legal corporate structure and 3) the strategy that the company adopts.
The second layer is the operating layer: This includes the operating model, organizational units and the processes that allow a company to execute on the business layer.
Finally, there is the systems layer. The role of the systems layer is to be fully aligned to the business and operating layers and to deploy technologies that will make the operating layer fast and efficient.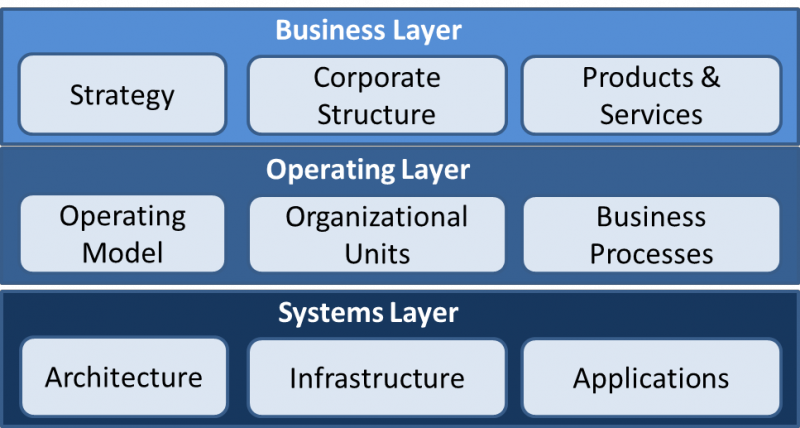 The Paradox
Senior leaders are typically quite good at defining the business layer. But because that second layer, the operating layer, is so complex, it is very difficult to change. "Change at the operating layer requires that executive and business unit management are completely aligned and committed to the vision, and what is required to achieve it," says Richter. "Change at the operating layer also requires significant investment, especially when migrating from current, historically developed processes and structures, to new and different operating models."
In some companies, says Richter, CIOs are asked to do their part, systems implementation, before change has really occurred at the operating layer – and without support from key business leaders. The CIO, therefore, is sometimes in the unenviable position of having to reach up to the operating layer to create change, so that the IT team can deliver on the systems layer. This is tough to do and a paradox if ever I have heard one.
So, how do CIOs who finds themselves in such a conundrum – where the executive committee skips the operating layer and goes straight to systems — get out of it?
What a CIO can do
"As CIO, there are a few things you can do to help solve this paradox," says Richter. "First, you need to understand the attitude that the current executive committee has toward IT. Do they believe that IT is a back office function and a necessary evil? If the executive committee does not believe in the strategic importance of IT, and you don't have the credibility to change their perspective, your chances for success are very slim. In that case you may want to look for other professional opportunities elsewhere.
If you'd rather not resign just yet, Richter has another suggestion: "You can also encourage your CEO to bring in a top-level consultant, so that when CEO describes the company's strategy, the consultant can talk about what the digital world will require to make that strategy work," Richter says. "CEOs sometimes believe consultants more than they do their own people. "
When Richter was CIO of Rockwell International, he asked his CEO to bring in business process reengineering guru Michael Hammer to talk through the company's strategy and operating model. "After that, my life was easy," says Richter. "Hammer told my CEO that he had to stop 'paving the cow path.' In other words, if he kept putting new technologies over an old process model, all he would get is more expensive technology."
Richter has always found that by using solid examples of other companies that value IT, he can help the EC see the light. "I like to use Dell as a case study," he says. "Dell has focused on streamlining its logistics chain, which is how they were able to put just-in-time logistics in place. When they did that, they enjoyed a significant cost advantage in their logistics, which no one else could match for a long time. If you can your CEO to talk to successful business leaders such as Michael Dell, you may be in a better place.
When Richter was CIO of Whirlpool, they were embarking on an SAP implementation, and Richter knew he had to work hard to educate the CEO and his management team about what that implementation would require in terms of the operating layer. "We asked SAP to put us in touch with companies that had successfully used SAP and achieved the level of transformation we had ahead of us. Nothing is more powerful than getting your executives together with others who have done what you are about to do."
The trick, of course, is to have connections to executives and other leading lights in the world of business process re-engineering. Maybe you do, or maybe you don't. But the point is this: If you feel that you are shouting into an empty valley when attempting to educate your CEO on the importance of changing that tricky operating layer before you implement technology, then stop. Find someone else to come in and do a little shouting on your behalf.
About Wolfgang Richter
Wolfgang Richter is PwC's global Chief Information Officer (CIO) since April 2010. He completed PwC's global IT Transformation strategy, received approval and is now focused on implementation with his IT team and business partners.
He joined PwC from Deloitte where he held the global CIO position for the last ten years. His focus was on creating and implementing Deloitte's global IT strategy. He built most of Deloitte's global systems portfolio for Brand, Global Client Management, Risk, Independence, Knowledge Management, Talent and more. Previously he held global CIO positions for Global Crossing, Rockwell International and Whirlpool with focus on creating and implementing global IS strategies. All positions allowed him to gain broad international experience with multi-year assignments in the US, Germany and Italy. Wolfgang Richter started his career with IBM in Germany and the US where he developed global information systems for manufacturing and systems products for IBM clients.