Facebook Home, the social network's new software for Android smartphones, just passed the 500,000 download mark in the Google Play store a little more than a week after becoming available.
The reviews, however, aren't good: Its average rating sits at just 2.2 out of a possible five stars tallied from more than 11,000 reviews.
Common complaints include battery drain, too many required clicks and gestures, and feeling overwhelmed by the constant stream of Facebook fluff.
While users aren't impressed, if Facebook Home should bother anyone, it's Google CEO Larry Page, according to an amusing comic strip posted by "The Joy of Tech." The comic highlights one of Facebook Home's most intrusive features, Chat Heads, which are conversation bubbles that pop up on your Android device, displaying the user's profile picture when he or she sends you a message. Have a look.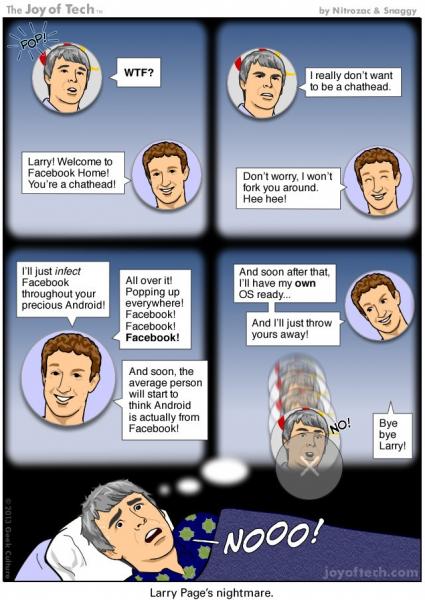 Have you tried Facebook Home? Leave me your thoughts in the comments section below.