A company in India is currently working on a prototype smartphone with a touchscreen that uses inset pins to form braille on its surface, so blind users can receive and read email and text messages, according to a Times of India report.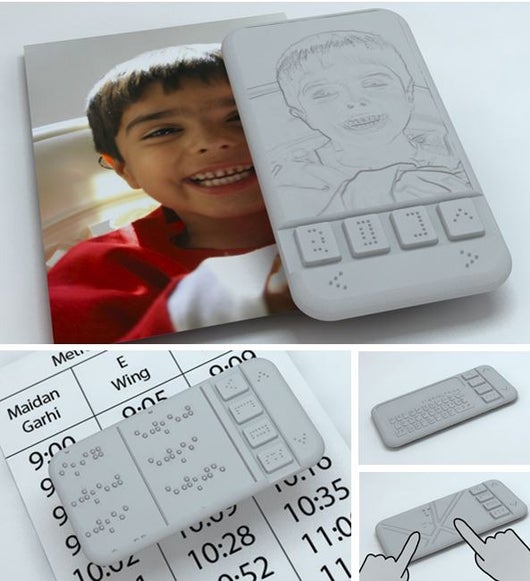 The device is reportedly the first of its kind, and it could potentially turn smartphones into invaluable companions for the blind.
Sumit Dagar of Kriyate Design Solutions, the company building the device, is working with the Indian Institute of Technology (IIT) Delhi on the prototype, and it will be tested at L V Prasad Eye Institute in Hyderabad, the report says. Dagar came up with the idea while attending India's National Institute of Design (NID). He recently quit his job and formed a team of six to dedicate all of his efforts on furthering the Braille smartphone idea.
Dagar says, "[t]his product is based on an innovative 'touch screen' which is capable of elevating and depressing the contents it receives to transform them into 'touchable' patterns."
From the Times of India:
"The smartphone uses Shape Memory Alloy technology, based on the concept that metals remember their original shapes, i.e. expand and contract to its original shape after use…The phone's 'screen' has a grid of pins, which move up and down as per requirement. The grid has a Braille display, where pins come up to represent a character or letter…This screen will be capable of elevating and depressing the contents to form patterns in Braille."
Smartphones are already indispensable tools for millions of people, but the true potential of the devices for the blind may just now beginning to be realized. Very few technical details on the device are available at this point. It's unclear, for example, what mobile OS the device runs or will run or how text entry will work. And the braille smartphone for the blind is still in testing phases, so it may never actually be released. But the idea is a novel one that appears to warrant some more research and development.
AS