On Wednesday I downloaded, installed and tinkered with Apple's brand new iOS 7 software. Here are 12 features that I love, feel ambivalent toward or just don't like at all.
Good: iOS 7 automatically updates your apps, if you want it to. You see an option to enable the feature the first time you update your apps. Thank you, Apple!
Good: Swiping right on an email in iOS 7 lets you delete the message, as always. But now it also reveals a "More" icon that you can tap to see more options, including the ability to move the email into a folder, mark it as unread or mark it as "junk." With so many third-party apps vying to be your go-to iOS mail app, Apple seriously needed to beef up Mail—and it did, with this and other enhancements.
Good: You can swipe from left to right within supported iOS 7 apps to jump back a screen. In Mail, for instance, a swipe takes you to your mailboxes. Huge improvement? Nope. Convenient? Yep.
Good: At last: Smart photo sorting in the Photos App. Pictures and videos are automatically organized geographically and chronologically, making it easy to go right to your vacation or other time-and-place-specific images.
Good: The Today screen in Notification Center shows your day at a glance, including weather and calendar appointments, as well as a quick look at what's coming tomorrow.
Good: I love the new Control Center. Swipe up on any screen, and you get access to Airplane mode, Do Not Disturb, the screen brightness slider, volume slider, AirDrop, AirPlay, a flashlight and more.
Ugly: You may need to delete stuff to download iOS 7. I had just under 1GB of free space on my iPhone 5 (16GB model) and was told I needed at least 3.1GB to download iOS 7. So off I went, deleting apps, music, and photos to make room. Fortunately, the OS only takes up about 750MB when installed, so I could reinstall most of what I deleted. But I didn't; it was time to clean house anyway.
Ugly: The new interface is appealing, but in some cases legibility gets thrown under the bus. For instance, the light-white typeface on app icons can be difficult to read. You can adjust this by going into Settings > General > Accessibility and turning on Bold Text. You can also turn on the "Increase Contrast" feature.
Ugly: With the new interface, there is a slight learning curve. And there's no associated tutorial within the OS.
Example: You may find yourself searching for Spotlight search. Previously, it was easy to access by tapping the iDevice home button when you were on the home screen. I use Spotlight a lot to quickly call up lesser-used apps hiding on my iDevices.
To access Spotlight now you tap the center of an iOS 7 screen and swipe down. The upside is that Spotlight is now available from any iOS 7 screen. Also, when you use iOS 7 for the first time, Apple displays a message explaining Spotlight's new location. But if you're eager to get going, you may not be paying close attention to that.
Ugly: When I initially explored the ringtone options, I thought none of the old iPhone ringtones had made the transition to iOS 7. Where the hell was Marimba, the default (and signature) iPhone ringtone? But I soon discovered the old ringtones hiding under the "Classic" label, at the bottom of the alphabetized list.
The new iOS 7 default ringtone is called Opening, which is pleasant but not terribly distinctive. Other newbies are cheesy-electronic (By The Seaside, Playtime), cosmic (Constellation, Cosmic), and new agey (Crystals). Apple added new alert tones, too.
Bad: iOS 7 changed my default passcode lock setting from "After 15 Minutes" to "Immediately." Not a big deal. But if I'd wanted my iPhone to lock "Immediately," I would've chosen that option.
Bad: After downloading iOS 7, it took me six tries to actually install it. Granted, I attempted to install the OS the day of its release, late in the afternoon Pacific time—which was probably peak time for Apple's servers. But I still think Apple should have been able to predict the demand and been better prepared.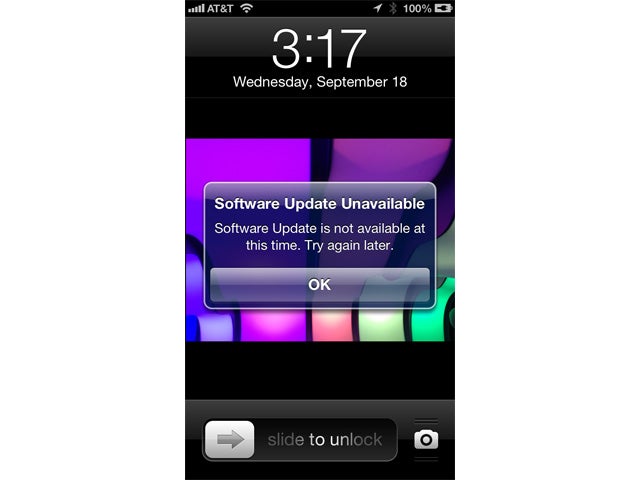 What are your first impressions of iOS 7?