Apple is expected to release iOS 7 today, bringing lots of cool new features to folks with compatible iPhones, iPod touches and iPads.
If you have an Android device, you can also get a taste of iOS 7, thanks to more than 100 Google Play store apps that promise to give your Android device the look, feel and features of iOS 7. Here are some free apps that stand out from the pack, for better or for worse – mostly the latter.
Real iOS 7 Launcher (User rating: 4.4 stars)
This app, which makes your Android home screen look like its iOS 7 counterpart, has one of the highest Play Store user ratings for such apps. So I installed it. It's OK, I suppose, but it's also cheesy. For instance, the Calendar icon's title is misspelled as "Calender."
App icons don't always map to the appropriate apps installed on your device. When I tapped the Weather icon, for instance, I was taken to a "Top Apps/Offers of the Day" download page, which had nothing to do with weather. The replacement home screen also makes it difficult to access all of your apps. And it adds some useless icons for apps you probably don't want and definitely don't need. The Angry Birds icon took me to a download page that didn't include the popular game.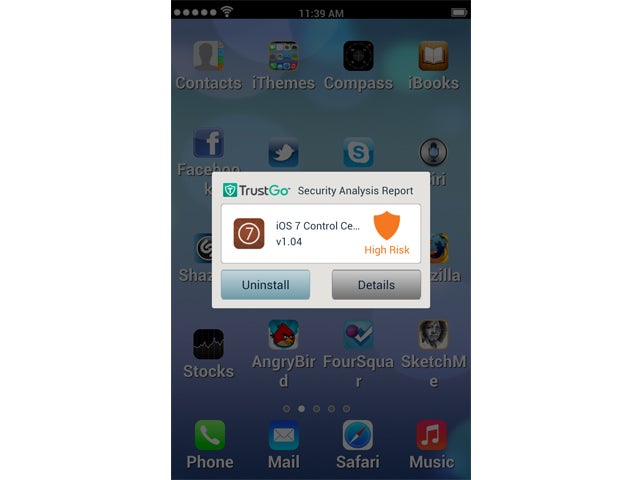 iOS 7 Control Center (User rating: 3.1 stars)
Apps that aim to replicate the iOS 7 Control Center feature on Android have come and gone. One such app, iOS 7 Control Center port, was released in July. Apple then complained that the app violated its copyrights, so Google yanked it. It later reemerged with an update, only to disappear again.
And yet, a similar app, iOS 7 Control Center, is still available in the Google Play store. After installing it, I immediately received a TrustGo security scan alert, warning me that the app "uses the Apperhand ad network, which can modify your homepage, create unwanted shortcuts on your phone's desktop, modify browser bookmarks, and push inappropriate ads to your phone's notification bar."
The app places an "iOS" tab at the bottom of your Android's screen. Tap it once, then slide up to put your device into Airplane mode; turn off Wi-Fi or Bluetooth; turn on/off a flashlight; adjust brightness; and more. The "Do Not Disturb" button doesn't work on my Samsung Galaxy Note, however.
iOS 7 Calculator (User rating: 4 stars)
The new Calculator app in Apple's iOS 7 has a new, "flat" look that this Android app mimics. But unlike the real Apple Calculator, this Android calculator doesn't turn into a scientific calculator when you put your device in landscape mode—a big drawback, in my opinion.
Conclusion: If you want your Android device to look like iOS 7, you should just get an iPhone. Otherwise, set your expectations really low and you won't be (too) disappointed.