This week, Apple announced that the latest version of its mobile OS, iOS 7, will be available to download on Sept. 18. The software doesn't appear to have any truly revolutionary features, but many of them will be welcome enhancements.
Here's a quick look at five iOS 7 features iDevice fans can look forward to.
1. New Interface Design
For the first time since iOS debuted in 2007, it's getting a makeover. On its website, Apple says iOS 7's redesign will offer an experience that's "simpler, more useful, and more enjoyable—while building on the things people love about iOS."
From what I've seen, that sounds like an accurate description. The interface and redesigned Apple apps appear to do a good job of presenting information, interaction and navigation in a more immediate, meaningful way. For example, the iOS Weather app, which has never been one of my favorite weather apps, will feature animations that illustrate current conditions. If it's snowing, you'll see snowflakes. If there's a storm, you'll see a flash of lighting. Cool, yes. But also quickly informative.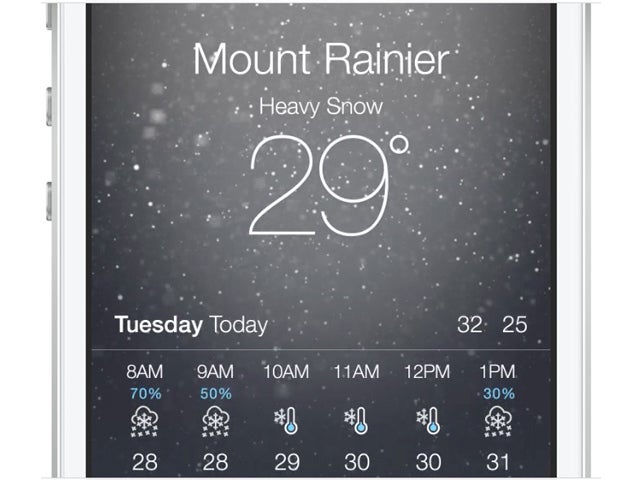 2. Control Center
Apple is at last making some frequently used tools and settings quickly available via Control Center. Swiping up on any screen provides access to options including Do Not Disturb, Airplane Mode and screen brightness, as well as a flashlight, calculator and timer.
Worth noting: An Android app called iOS 7 Control Center promises to give you the same quick access to similar settings and tools on your Android device. Not surprisingly, Apple asked Google to pull the app. But as of this writing, it's still in the Google Play store.
3. Today Screen in Notification Center
You can already swipe down on any iPhone screen to access the Notification Center. Beginning with iOS 7, your alerts will be sorted by "Today," "All" and "Missed." The Today screen brings together calendar items, weather and traffic updates. Apple appears to be playing catch up with Google Now with the Today screen, but I'm looking forward to it all the same.
4. Grouping Photos and Videos by Time and Place
Native iOS photo organizing—or the lack thereof—has been an ongoing gripe with users of previous versions of iOS. But iOS 7 lets you sort images by Years; Collections, such as photos of a particular city or town; and Moments, which reside within Collections and are of particular places, such as landmarks.
5. Find My iPhone Lock
A lot of iPhones had to be stolen, apparently, before Apple decided to take serious action. With iOS 7, a new activation lock requires a user's Apple ID and password to turn off the Find My iPhone feature. An Apple ID and password are also required to reactivate a device after it's been remotely wiped. These are all important steps in the right direction for Apple.
There are plenty of other iOS 7 features worth anticipating, of course, such as automatic app updates in the App Store. (Yes!)
Which features are you looking forward to (or not)?