The new Coast browser, which was released in the iOS App Store on Monday, is so simple, elegant and fun to use, I had to wonder: Why didn't Apple develop something like this years ago?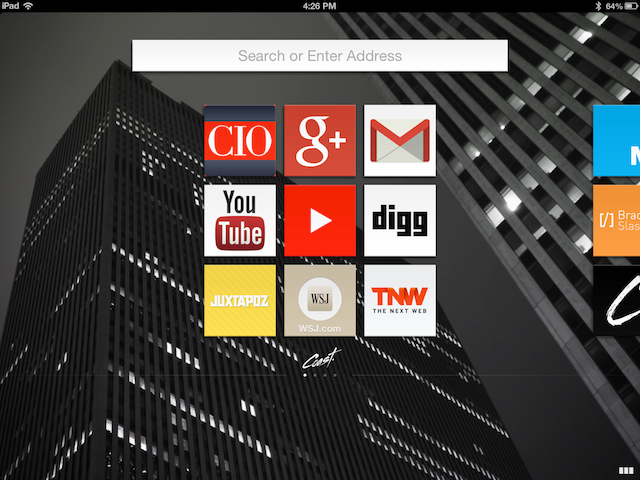 Coast comes not from Cupertino but from the folks at Opera Software, a Norwegian developer of browsers for desktop and mobile devices, including Opera Mini for iOS and Opera for Android.
The free Coast app, currently available only for iPad, sports a streamlined interface that transforms bookmarks into quasi "apps;" your bookmarks are represented by large app-like icons.
Press down on an icon and all other icons begin to sway, just as your iOS app icons become animated when you press down on them. You can also drag bookmark icons from one home screen to another or change their positions on a page. To delete an icon, you drag it to the top of Coast's screen. With Coast, URLs and searches merge into one bar. In lieu of backward and forward buttons, you swipe left or right. To bookmark a new site or page, you simply tap an icon at the bottom of the app.
All this simplicity comes with some limitations, however. Unlike Apple's iOS Safari browser, you can't sync bookmarks and open tabs between the Coast app and your desktop browser. There's no option for adding Web pages to a reading list, either.
Even bookmarking different pages on the same website feels challenging, because there's no way to differentiate bookmarks on the same page. For example, I bookmarked two CIO.com pages, but Coast shows the same CIO logo for both pages.
Coast looks and feels like a real tablet browser, optimized for touch instead of point-and-click interaction. In that sense, it feels very Apple-ish. But Apple is known for adeptly mixing both form and function, and because of its limitations, Coast isn't going to supplant Safari, or Google Chrome for that matter, as my iPad browser anytime soon.