I often play the role of consumer advocate in this blog. As such, I often beat on companies that try to take advantage of their customers. (Just last week I shared a list of some of the worst offenders.) And I will continue to call out the companies that deserve it.
But like good deeds, good customer service frequently goes unnoticed and unrewarded.
So in the future, if I hear about a tech company that went out of its way to help customers, or that consistently exhibits exemplary service, I may call them out too — and give 'em a "Snydely Award," which roughly translates to a written, and heartfelt, pat on the back. I'm also asking you to help out. My contact information is on the bottom of this post, so let me know if a tech company went out of its way to help you. Oh, one more thing: I'm a lot of things, but stupid isn't one of them. Any companies that try to game this system and submit bogus compliments will be dealt with severely. (FYI: The name of the Snydely Award comes from a nickname I had when I was a brash reporter at the magazine then known as PCWeek.)
Apple and Seagate Step Up
Nobody likes defective merchandise. But the fact of the matter is that hardware and software fail. Sometimes there's a good reason for that failure, but when customers pay good money for a product, they probably don't care about that reason; they simply want the vendor to solve their problem. All too often, though, the resolution process becomes a circus of repetitive emails, phone calls and finger pointing. So when I had two devices fail within one month, I was not happy.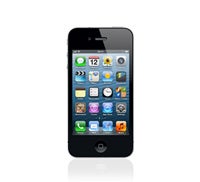 But Apple and Seagate, makers of my iPhone and an external backup drive, took care of business when their products failed. And they did it politely, quickly and with no attempt to blame me or anyone else. Neither company knew that I am a tech journalist, so they did not have any extra incentive to painlessly resolve my problems. So both companies are winners of the first Snydely Awards.
Some back story: I bought my iPhone 4S last Christmas. Before too long, I noticed that it didn't seem to identify or connect to Wi-Fi networks as well as my iPhone 3G S had. The problem wasn't severe, and when I called Apple tech support they suggested I reset the phone. I did, and it helped — for a while. Recently though, the problem got worse, and I was sick of it.
I made an appointment to visit the genius bar at the Apple store in downtown San Francisco. It was easy to find a convenient time for an appointment using the online booking tool. When I got to the store, I checked in, waited just a few minutes past my appointed time and then met with a very pleasant young "genius." He ran a few quick tests and agreed my iPhone was not working properly. Ten minutes later I left the store with a brand new one. I wasn't grilled; I wasn't asked if I had dropped the phone in the toilet or stuck it in the oven. And I didn't have to wait for some suit in Cupertino to approve the transaction. Apple simply made the problem go away.
Next up, Seagate. I bought a Seagate Go-Flex hard drive about nine months ago, and it croaked last week. I use two backup drives, so I didn't lose much. But I paid good money for that pup, and my other drive is just about full. I went to the Seagate website, determined that my drive was still under warranty and filled out the appropriate form.
A few days later, the new drive arrived. I hooked it up, started a new backup and went to dinner. When I returned, I still had no backup and the drive appeared dead. I was mad, of course, and the next business day I called Seagate, ready to give someone a lot of grief.
But the lady (I didn't catch her name) in the warranty department immediately said they would send me a new drive right away. Then, a moment later, she asked, "By the way, is the drive plugged into a hub or your laptop?" The hub, I said. It turns out that some large drives, this one is a terabyte, need more power than some hubs supply. When I plugged the new drive directly into my laptop's USB port it worked. (I also tested the first drive again, and it is still dead.)
To sum that up, Seagate first said it was their problem, and they'd make it right immediately. Then someone who isn't even in tech support asked an intelligent question and solved my problem. I can't tell you how many times I've spoken to a tech support rep who seemed to be clueless.
So I say thank you Seagate, and thank you Apple. You've earned your Snydelys.